Sir Michael Foster
---
1836-1907. Praelector in Physiology.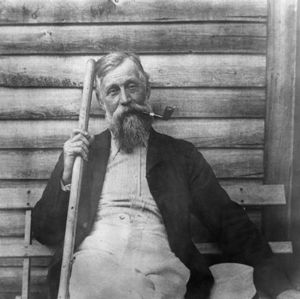 Sir Michael Foster, KCB, DCL, MD was born in Huntingdon and educated at University College School, London, where he graduated in medicine. In 1867 he returned to London as teacher of practical physiology at University College London, where two years afterwards he became professor. In 1870 he was appointed by Trinity to its praelectorship in physiology, and thirteen years later he became the first occupant of the newly-created Chair of Physiology in the University, holding it till 1903. One of his most famous students at Cambridge was Charles Scott Sherrington who went on to win the Nobel Prize in 1932.
Foster excelled as a teacher and administrator, and had a very large share in the organization and development of the Cambridge biological school. From 1881 to 1903 he was one of the secretaries of the Royal Society, and in that capacity exercised a wide influence on the study of biology in Britain. In 1899 he was created KCB (Knight Commander of the Bath), and served as President of the British Association at its meeting at Dover.
In the 1900 general election he was elected to represent the University of London in parliament. Though returned as a Unionist, his political action was not to be dictated by party considerations, and he gravitated towards Liberalism; but he played no prominent part in parliament and at the election of 1906 was defeated.
He was joint editor with E. Ray Lankester of The Scientific Memoirs of Thomas Henry Huxley. His chief writings were a Textbook of Physiology (1876), which became a standard work, and Lectures on the History of Physiology in the 16th, 17th and 18th Centuries (1901), which consisted of lectures delivered at the Cooper Medical College, San Francisco, in 1900. He died suddenly in London.
Memorial inscription
Translation

M.S.

MICHAEL FOSTER EQVES AVRATVS
SOCIETATIS REGIAE SOCIVS INSIGNIS
ET DIV SECRETARIVS LONDINENSIS ACADEMIAE SVFFRAGIIS
IN PARLIAMENTO BVRGENSIS
OBIIT ANNO POST CHRISTVM MDCCCCVII AETATIS SVAE LXXO
DIE MENSIS IANVARII XXVIIIO DESIDERATISSIMVS
ERAT HVIVS COLLEGII SOCIVS ET ALIQVANDO
PRAELECTOR. DEINDE IN ACADEMIA PHYSIO-
LOGIAE PRIMVS PROFESSOR NOVIQVE STVDII
NOVAE DISCIPLINAE INVENTOR.
QVALIS IPSE FVERIT QVID EFFECERIT
TESTATVR ACADEMIA TESTANTVR AMICI
TESTANTVR VBIQVE GENTIVM
SCIENTIAE TRADENTES LAMPADA DISCIPVLI

Sacred to the memory of Sir Michael Foster, distinguished Fellow, and for a long time Secretary
of the Royal Society, and Member of Parliament for London University. He died on 28th January 1907
at the age of sixty-nine, and he is greatly missed.
He was a Fellow and for some time Praelector of
the College. Then he became the first Professor of Physiology in the University, the pioneer of a new field of research and a new discipline. The University, his friends, and his pupils all over the world, who pass on the torch of his science, bear witness to his character and achievements.
Michael Foster

Brass located on the south wall of the Ante-Chapel.
Memorial text by F.J.H. Jenkinson

Click on the thumbnail for a larger image.