Sir Walter Morley Fletcher, KBE, FRS
---
1873-1933. Tutor in Medical Sciences. Administrator of the Medical Research Council between the wars.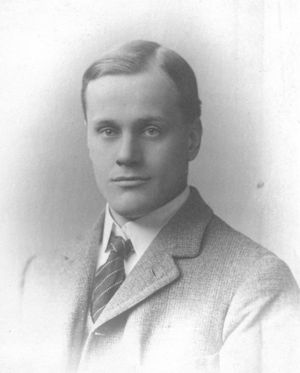 Fletcher went from University College School, London, to Trinity, with a sub-sizarship to study physiology and with the auxiliary aim of medical qualification. Here he was successful academically, socially, and in athletics. He graduated BA, obtaining first classes in both parts of the natural sciences tripos. In 1897 he was elected to a fellowship at Trinity and won an open scholarship to St Bartholomew's Hospital, London, which enabled him to complete the clinical studies for his medical training. During this period he remained at Trinity, working in the physiological laboratories under Michael Foster. He received his MA in 1898, MB in 1900, MD in 1908, and ScD in 1914. He was elected FRS in 1915 and was Croonian lecturer of the Royal Society in the same year.
In 1914 Fletcher left Trinity to take the post of secretary of the Medical Research Committee, created in 1913 by Lloyd George under the National Insurance Act of 1911. After the outbreak of war the committee concentrated on help for the services, and the speed with which Fletcher found himself free for action in arranging such work, combined with his policy of co-operation rather than intrusiveness, proved the value of an organization which could, without official delays, concentrate scientific workers on any urgent problem. The authority of the new committee became recognized everywhere, and Fletcher's services were acknowledged by the appointment as KBE in 1918. Civilian problems were not neglected and the proof, obtained by work which the committee had promoted during the war, that rickets is a deficiency disease, fully preventable by better feeding, seized Fletcher's imagination and made him eager to study and plan for improvements in human nutrition.

In 1920 Fletcher saw his committee, renamed the Medical Research Council, freed from any control by the Ministry of Health and placed under the privy council, with a charter of its own and direct financial support from the Treasury. This change and its high reputation were due in the main to Fletcher's administrative skill, his enthusiasm, and his wise use of scientific resources.

Fletcher's assistance was sought in other work. From 1919 to 1922 he was a member of the royal commission on the universities of Oxford and Cambridge. The buildings of the biochemical laboratories at Oxford and Cambridge and of the School of Hygiene and Tropical Medicine in London, together with considerable endowments for the medical sciences, were in large measure due to the confidence placed in his advice by the Sir William Dunn trustees and the Rockefeller Foundation. In 1928 he travelled to India as chairman of the Indian government committee for the organization there of medical research, and his visit was followed by the gift in memory of Lady Tata, the wife of Sir Dorabji Tata, of £250,000 for leukaemia research. He was appointed CB in 1929 and received honorary degrees from the universities of Leeds, Glasgow, Birmingham, Edinburgh, and Pennsylvania.
Memorial inscription
Translation

WALTERVS MORLEY FLETCHER

ORD BRIT. IMP EQVES SC.D SOC.REGIAE SOCIVS
HVIVS COLL. SOC. ET OLIM INTER TVTORES PRINCEPS
NATVS A.D. MDCCCLXXIII
POST EGREGIOS ET COLLEGIO ET ACADEMIAE IMPENSOS LABORES
PRIMVS CONCILIO REI MEDICAE INVESTIGANDAE A SECRETIS ACCESSIT
CVI OPERI SVMMA CVM LAVDE XX FERE ANNOS INCVBVIT
IS CORPORE INSIGNIS INGENIO CELER ET HILARIS
VT IVVENTVTI ITA COAETANEIS GRATISSIMVS
IN LVCEM SANCTAM MIGRAVIT
MENSE IVNIO A.D.MDCCCCXXXIII
Sir Walter Morley Fletcher, K.B.E., Sc.D., F.R.S., was a Fellow of the College and formerly Senior Tutor. He was born in 1873. After rendering distinguished services to the College and the University, he was appointed the first Secretary of the Medical Research Council, and he devoted himself to the work for almost twenty years, earning much praise. A man of notable personal appearance and a quick and lively mind, he was very popular as a companion with young and old alike. He moved on to light celestial in June 1933.
Walter Morley Fletcher

Brass located on the south wall of the Ante-Chapel.
Memorial text by M.R. James.

Click on the thumbnail for a larger image.