Frederick Field
---
1801-85. Theologian.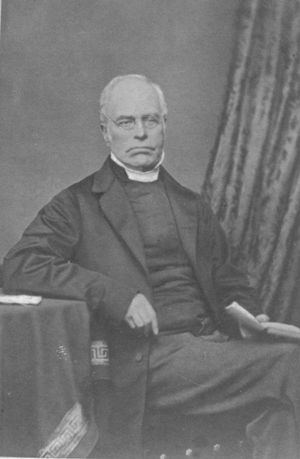 Field, said to be a direct descendant of Cromwell, was educated at Christ's Hospital and Trinity, where he obtained a fellowship in 1824. He was ordained in 1828, and began a close study of patristic theology. Eventually he published an emended and annotated text of Chrysostom's Homiliae in Matthaeum (Cambridge, 1839), and some years later he contributed to Pusey's Bibliotheca Patrum (Oxford, 1838-1870), a similarly treated text of Chrysostom's homilies on St Paul's epistles.
In 1839 he had accepted the living of Great Saxham, in Suffolk, and in 1842 he was presented by Trinity to the College living of Reepham in Norfolk. He resigned in 1863, and settled at Norwich, in order to devote his whole time to study.
Twelve years later he completed the Origenis Hexaplorum quae supersunt (Oxford, 1867-1875), now well known as Field's Hexapla, a text reconstructed from the extant fragments of Origen's work of that name, together with materials drawn from the Syro-hexaplar version and the Septuagint of Robert Holmes and James Parsons (Oxford, 1798–1827). Field was appointed a member of the Old Testament revision company in 1870.
In his old age, he published Notes on select passages of the Greek Testament: chiefly with reference to recent English versions (1881). This was reprinted posthumously with additions by the author under the title Notes on the translation of the New Testament (1899). He was deaf for most of his life.
Memorial inscription
Translation

FREDERICUS FIELD A M LL D

hujus Collegii ab anno Mdcccxxiv usque ad a: Mdcccxliii Socius et postea in ordinem Sociorum honoris causa adscitus natus est Londini a: Mdccci obiit Norvici a:s:Mdccclxxxv aet. lxxxiv Vir fuit morum sanctitate litterarum praesertim sacrarum peritia sollertia in re critica exercenda inter doctissimos sui temporis suspiciendus

Post susceptos sacros ordines theologiae studio diligenter culto et nunquam intermisso adjunxit curam animarum in viculo Reepham appellato in agro Norfolciensi cujus rectoriam a collegio acceperat donec vergente jam aetate sacerdotium deposuit et Norvicum se privatus contulit ubi vitam agens ipse parcissimam incredibili in caeteros liberalitate utebatur.

Diligentiae et ingenii fructus amplissimos posteris reliquit primum Chrysostomi in Matthaeum et in D: Pauli Epistolas Homiliarum postea Origenis Hexaplorum editionibus praestantissimis confectis

In memoriam fratris
hanc tabulam poni voluit soror superstes.

Frederick Field, M.A., LL.D., was a Fellow of the College from 1824 to 1843 and was later made an Honorary Fellow. He was born in London in 1801 and died in Norwich in 1885 at the age of eighty-three. A man of integrity in his behaviour, he is to be numbered among the most learned men of his time for his knowledge of literature, particularly sacred texts, and his skill in the exercise of textual criticism.

After taking Holy Orders he took up the study of theology, at which he worked assiduously and without intermission. In addition he had a cure of souls at Reepham in Norfolk, where he held a College living. Towards the end of his life he resigned his benefice and retired to Norwich, where, living very frugally himself, he showed an incredible generosity to others.

He left for posterity the ample products of his dedication and genius in his notable editions first of the Homilies of Chrysostom on St Matthew and on the epistles of St Paul and later of Origen's Hexapla.

His sister who survives him wished this brass to be erected in memory of her brother.
Frederick Field

Brass located on the south wall of the Ante-Chapel.
Memorial text by William Hepworth Thompson.

Click on the thumbnail for a larger image.