Francis John Henry Jenkinson
---
1853-1923. Classicist; bibliographer; University Librarian.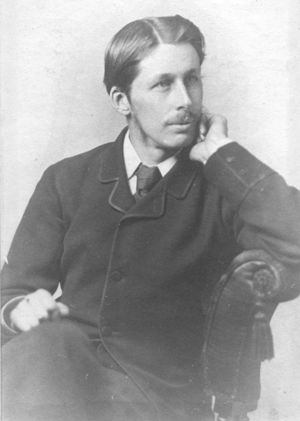 Jenkinson was born at Forres, Moray, but grew up in Reading, and was educated at Marlborough College and Trinity College, where he was elected a scholar, and in 1876 graduated in the first class of the classical tripos. In 1878 he was elected a Fellow, and from 1881 to 1889 he was a College Lecturer in Classics. As an undergraduate he developed his interests in archaeology and natural history, especially entomology. He was also introduced to Henry Bradshaw, who encouraged him to study early printing and whose papers he edited (1889). Jenkinson became Bradshaw's most apt and faithful pupil, basing both his bibliographical work and his eventual career on his master's example.

Jenkinson was elected University Librarian in 1889. Although in retrospect many considered his term of office as one of consolidation, in fact he oversaw much change. A proposal that the library should join with the British Museum and the Bodleian Library to buy the manuscripts of Sir Thomas Phillipps proved abortive. But the gift by Lord Morley in 1902 of most of Lord Acton's library brought the largest single collection ever received in Cambridge; Jenkinson took a personal interest in sorting the books and trying to make good imperfect sets, and, as part of the extra staff engaged to catalogue so large a collection, appointed the first woman to the library. In 1898, the gift of most of the contents of the Cairo genizah brought over 140,000 fragments dating mainly from the tenth to the thirteenth centuries. In efforts to find new space the Woodwardian Museum of Geology was converted into bookstacks; and the University embroiled itself in two separate campaigns to build in the library's eastern court. To have done so would have brought only very temporary relief, and though Jenkinson was despondent at losing opportunities for space he took little public part in the debates. Some relief was obtained by the reallocation of adjacent offices, and by the decision (unwelcome to Jenkinson) in 1905 to remove most of the law books to the new specialist library established under the will of Rebecca Flower Squire (d. 1898). By 1921 he recognized that the University Library would have to move to an entirely new location, and by his death the University was looking towards the site on which Scott's new building was opened in 1934.

Jenkinson's contemporaries spoke of him as a saint. None questioned his benevolent temper, and scholars throughout Europe repeatedly acknowledged his generosity and skills. Doubts of his energies were dispelled by his determined and successful orchestration of the defence of the right of Cambridge and Oxford to copies of new publications, when proposed legislation in 1910-11 threatened their interests. From 1915 Jenkinson threw his energy into collecting the literature, and particularly the ephemera, of the war, on a worldwide basis; he thereby established an archive which began to be properly appreciated only many years after his death.

As a bibliographer, Jenkinson concentrated on fifteenth-century printing and on early printing in Cambridge. Under his aegis, a catalogue of the University Library's early English printed books was compiled by Charles Sayle and published in 1900–07; but Jenkinson himself made little progress with cataloguing the library's incunabula.

Jenkinson was a passionate listener to music. In 1902 he received the honorary degree of DLitt from Oxford. He was married twice: first, in 1887, to Marian Wetton, sister-in-law of C.V. Stanford; and second, in 1902, to Margaret Stewart. He was buried at Trumpington.

DNB / David McKitterick
Memorial inscription
Translation

FRANCISCUS IOANNES HENRICUS JENKINSON

COLLEGII SOCIUS ET LECTOR LATINUS INDE IN ACADEMIA PER VII FERE LUSTRA BIBLIOTHECARIUS
NATUS APUD FORRES MORAVIA A.D.XIII KAL.SEPT. MDCCCLIII OBIIT LONDINI A.D.XI KAL.OCT. MDCCCCXXIII
ET IN COEMETERIO DE TRUMPINGTON QUIESCIT.
MULTARUM ERAT DISCIPLINARUM PERITUS NULLIUS FERE NON STUDIOSUS: RARAM SENSUUM MENTISQUE ACIEM CUM ANIMI CANDORE VULTUSQUE VENUSTATE
AD IPSUM VITAE FINEM PERTULIT:
NATURAM MUSICAM LIBROS SED MAGIS HOMINES HOMO AMAVIT.

Beati mundo corde, quoniam ipsi Deum videbunt

Francis John Henry Jenkinson, Fellow and College Lecturer in Latin, and for almost thirty-five years University Librarian. He was born in Forres in Morayshire on 20th August 1853 and died in London on 21st September 1923; he rests in Trumpington Cemetery. He was an expert in many disciplines and there was virtually none in which he did not take an interest. He maintained his uncommon keenness of perception and intellect together with his open nature and handsome appearance to the very end of his life. He loved nature, music and books, but most of all his fellow man.

'Blessed are the pure in heart, for they shall see God.' [Matt. 5: 8]
Francis John Henry Jenkinson

Brass located on the north wall of the Ante-Chapel.
Inscription text by James Duff Duff.

Click on the thumbnail for a larger image.