Charles Villiers Stanford
---
1852-1924. College Organist and composer.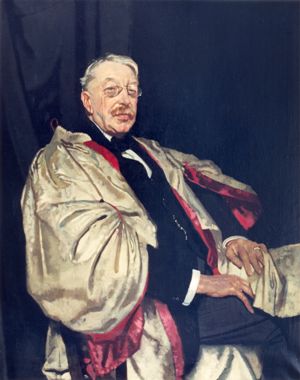 Born into a musical family in Dublin, Stanford was educated at Cambridge before studying music in Leipzig and Berlin.
He was appointed Organist of Trinity while still an undergraduate. In 1882, aged 29, he was one of the founding professors of the Royal College of Music, where he taught composition for the rest of his life. From 1887 he was also the Professor of Music at Cambridge. He was instrumental in raising the status of the Cambridge University Musical Society (CUMS), attracting international stars to perform with it.
As a teacher, Stanford was sceptical about modernism, and based his instruction chiefly on classical principles as exemplified in the music of Brahms. Among his pupils were rising composers whose fame went on to surpass his own, such as Gustav Holst and Ralph Vaughan Williams. As a conductor, Stanford held posts with the Bach Choir and the Leeds triennial music festival.
Stanford composed a substantial number of concert works, including seven symphonies, but his best-remembered pieces are his choral works for church performance, many of which are regularly sung in this Chapel. He was a dedicated composer of opera, but none of his nine completed operas has endured in the general repertory. Some critics regarded Stanford, together with Hubert Parry and Alexander Mackenzie, as responsible for a renaissance in music from the British Isles. However, after his conspicuous success as a composer in the last two decades of the 19th century, his music was eclipsed in the 20th century by that of Edward Elgar as well as former pupils.
Memorial inscription
Translation

M.S.

CAROLI VILLIERS STANFORD EQ. AURATI MUS DOC. PER IV LUSTRA COLLEGII ORGANISTAE PER VII IN ACADEMIA PROFESSORIS QUO AUCTORE NOVUM CANTICUM IN LAUDEM DEI DIDICIMUS. VIXIT LXXII ANNOS. EBLANAE NATUS LONDINII MORTUUS IN ECCLESIA SCTI PETRI WESTMONAST. HAUD IMMERITO SEPULTUS EST. PRID. NON. APR. MDCCCCXXIV



Sacred to the memory of Sir Charles Villiers Stanford, Mus.D. He was Organist of the College for twenty years and Professor in the University for thirty-five years. We learned from him a new song in praise of the Lord. He lived to the age of seventy-one. He was born in Dublin and died in London on 4th April 1924, and is deservedly buried in Westminster Abbey.
Charles Villiers Stanford

Brass located on the north wall of the Ante-Chapel.
Inscription text by Henry Francis Sandbach.

Click on the thumbnail for a larger image.