Vincent Henry Stanton
---
1846-1924. Lecturer in Political Economy, Regius Professor of Divinity.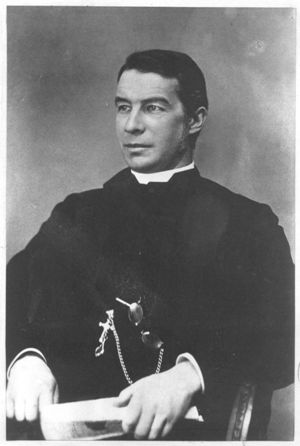 Stanton was born on 1 June 1846 and died on 8 June 1924; he is buried in the Parish of the Ascension Burial Ground, Cambridge.
His publications include:
The place of authority in matters of belief (1891)
The gospels as historical documents (1903)
The teaching of the Qur'an
The elements of pain and conflict in human life, considered from a Christian point of view
The Jewish and the Christian Messiah
Memorial inscription
Translation

VINCENTIUS HENRICUS STANTON S.T.P.

COLLEGII SOCIUS LECTOR OLIM ET TUTOR
IN ACADEMIA PER XXX FERE ANNOS S.THEOLOGIAE PROFESSOR ELIENSIS PER VI ANNOS PROFESSOR REGIUS
PER LXXVII ANNOS SERVUS CHRISTI
IN BONIS OPERIBUS DITISSIMUS
FIDEM SCRIPTIS DEFENDIT MORIBUS ILLUSTRAVIT
VIR GRAVIS SAPIENS SANCTUS
UT QUOD IUBET ORIGENES
VITAM ΜΙΑΝ ΣΥΝΕΧΟΜΕΝΗΝ ΕΥΧΗΝ
PRAESTARET
NATUS EST IN FINIBUS SERUM KAL. IUN. MDCCCXLVI
OBDORMIVIT APUD NOS A.D.VI ID. IUN. MDCCCCXXIV



Vincent Henry Stanton, D.D., Fellow, Lecturer and sometime Tutor of the College, was for nearly thirty years Ely Professor of Divinity in the University and for six years Regius Professor of Divinity. For seventy-seven years he served Christ richly with good works, defending the Christian faith in his writings and exemplifying them in his life. A serious, wise and holy man, he offered up his life, as Origen enjoins, as 'one continual prayer'.
He was born in China on 1st June 1846 and died here on 9th June 1924.
Vincent Henry Stanton

Brass located on the south wall of the Ante-Chapel.
Inscription text by Henry Francis Sandbach.

Click on the thumbnail for a larger image.