Hugh Fraser Stewart
---
1865-1948. Dean of Chapel; University Reader in French.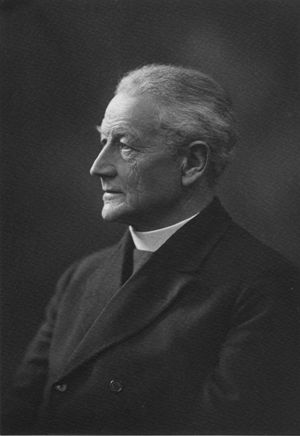 An undergraduate at Trinity, Stewart was appointed Chaplain here in 1900. From 1907 he was Fellow, Dean and lecturer at St John's, and returned to Trinity in 1918 as Fellow, Dean of Chapel and Praelector in 1918. In 1922 he was appointed University Reader in French and was a fellow of Eton College from 1919.
His early years produced writings upon Boethius and Augustine of Hippo, which suggest an interest in the initial stages of the Christian church and may have accounted for his later interest in Pascal, on whom Stewart was regarded as a consummate expert. France recognized him as the chief English pascalisant, and The Holiness of Pascal, the subject of his Hulsean lectures of 1914-15, displays his penetrating and impartial grasp of the controversy between Jesuit and Jansenist with its subsequent political developments. His other writings on the subject include The Secret of Pascal, Pascal's Apology and The Heart of Pascal.
Stewart also had detailed knowledge of the French seventeenth century, and collaborated with Arthur Tilley of King's College on The Classical Movement in French Literature, The Romantic Movement and The French Romanticists.
In over fifty years of outstanding service to the University perhaps his greatest contribution was his reconstruction and development of the Modern and Medieval Languages Tripos. Stewart was an excellent chairman, who allowed freedom of speech as long as it was relevant to the question under discussion, and was able without giving offence to check unbridled loquacity; he had also a keen eye for any slovenliness or ambiguity of expression in the printed word, a valuable quality in drawing up regulations or in passing examination papers.
He was devoted to music, especially to Mozart and Bach, and for many years was president of the University Musical Society. But his chief characteristic was his deep admiration for France and her literature. Even in 1940 he never despaired of her recovery and dedicated his Secret of Pascal, which appeared in that year, 'A la France, quand même'. Few men have done more to stimulate interest in France and few have better deserved the distinction of Chevalier de la Légion d'Honneur.
Memorial inscription
Translation

HVGO FRASER STEWART S.T.P.

HVIVS COLL. ALVMNVS MOX ALIQVAMDIU COLL. S IOHANNIS SOCIVS IN SVORVM SOCIETATEM POSTEA REVOCATVS FRANCOGALLORVM LINGVAM QVOS VNICE AMABAT PER MVLTOS ANNOS PRAELECTOR EXPLORANS STVDIIS IN BLASIVM PASCALEM GENTIS EIVSDEM PRAECLARVM DECVS IMPENSIS SANCTVM ILLIVS INGENIVM QVOD IPSE VITA ET MORIBVS REPRAESENTABAT SVMMO ACVMINE SCRIPTOR ILLVSTRABAT VIR STATVRA BREVIS FACIE VENERABILIS AMICIS QVAM PLVRIMIS DILECTVS AC DESIDERATVS OB. A.D. IX KAL. FEB. ANNO DOMINI MCMXLVIII AETATIS SVAE LXXXIV



Hugh Fraser Stewart, D.D., a graduate of this College, was for some time a Fellow of St John's College and was later recalled to a Fellowship here. A great Francophile, he was for many years Reader in French, studying the French language and devoting his researches to that famous Frenchman, Blaise Pascal. As a writer of great skill he cast light on Pascal's venerable genius, which he imitated in his own life and actions. A man short in stature but of august appearance, he was loved and is mourned by his very many friends. He died on 24th January 1948 at the age of eighty-three.
Hugh Fraser Stewart

Brass located on the south wall of the Ante-Chapel.
Inscription text by John Burnaby.

Click on the thumbnail for a larger image.