James Stuart
---
1843-1913.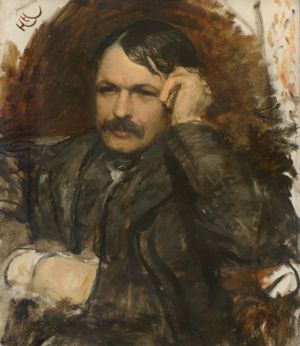 Professor of Mechanism and Applied Mechanics; MP; Rector of St Andrews University.
Born in Balgonie, Fife, the eldest of nine children, Stuart was educated at Madras College in St Andrews, and at St Andrews University, where he graduated BA in 1861 (he was awarded an honorary LLD in 1875). In 1862 he won a minor scholarship to Trinity, and he graduated third wrangler in 1866. Elected a Fellow of Trinity in 1866, he became an Assistant Tutor in 1867.

Stuart was aware of the 'vast masses who desire education', as he put it in his On the work of the universities in higher education (Transactions of the National Association for the Promotion of Social Science 1871, 1872, 373), and in addition to his College duties he organized intercollegiate lectures and courses of university extension lectures. From 1867 he gave a series of lectures in the north of England, the most successful of the several initiatives of Josephine Butler's North of England Council for Promoting the Higher Education of Women. From 1873 to 1876 he was the first secretary of the local lectures syndicate in Cambridge, and he materially assisted similar developments by an Oxford committee and by the London Society for the Extension of University Education. He should not, as has sometimes been the case, be seen as sole originator of university extension, but he was certainly its most prominent early activist. In 1875 he was elected the first Professor of Mechanism and Applied Mechanics at Cambridge and planned the Mechanical Science tripos. Practical training cut across Cambridge's theoretical tradition, and Stuart's approach and his radical politics led to criticism. He resigned his chair in 1889 when his tripos proposals were rejected and his department's existence threatened.

In 1882 Stuart unsuccessfully contested one of the Cambridge University seats, standing as a Liberal; he was strongly opposed by the clergy. He was elected for Hackney in 1884 and represented Hoxton from 1885 to 1900, when he was defeated. He was MP for Sunderland from 1906 until 1910, when he was again defeated. He continued his association with Josephine Butler by assisting in the campaign for the repeal of the Contagious Diseases Acts, and was a vigorous advocate of female suffrage and of reform of the House of Lords. He was an energetic editor of the Star and Morning Leader from 1890 to 1898. To his acute disappointment, especially in 1892, he was never offered office by a Liberal prime minister, but he served on several royal commissions. He was an alderman of the London county council from 1889 to 1898 and an elected councillor (for Haggerston ward) from 1901 to 1907. He was sworn of the privy council in 1909.

Stuart and his wife moved on the fringes of the circle around Gladstone, staying at Hawarden Castle and organizing prime ministerial visits to Norfolk. On the death in 1898 of his father-in-law, the mustard manufacturer J.J. Colman, Stuart moved to Norfolk and managed the firm. After his own death his widow founded an extramural lecturership at Cambridge in his memory; Stuart House, to which she contributed, was for many years the home of the Cambridge Board of Extramural Studies; it now houses the University Careers Service.
DNB
Memorial inscription
Translation

IN MEMORIAM IACOBI STVART A.M., LL.D.

DOMINI DE PRIVATO CONSILIO REGIS
COLLEGII HVIVS PER ANNOS XLVI SOCII
HIC VIR APVD CANTABRIGENSES
SCIENTIARVM MECHANIC[V]M DISCIPLINAM
PROFESSOR PRIMVS INSTITVIT
ACADEMIAE NOSTRAE ITA STVDIOSVS
VT ARTES EIVS ET DOCTRINAM
PER TOTVM REGNVM EXTENDENDAS CVRAVERIT
IN SENATVM BRITANNICVM SEXIES ELECTVS
REI PVBLICAE FIDELITER INSERVIIT
INGENIVM ARDOREM HVMANITATEM EIVS
RECORDANTVR ET DESIDERANT AMICI
NATVS A.D.IV NON.IAN. A.S.MDCCCXLIII
OBIIT A.D.IV ID.OCT. A.S.MDCCCCXIII

In memory of James Stuart, M.A., LL.D., Privy Councillor, and Fellow of the College for forty-six years. He was the first Professor of Mechanism and Applied Mechanics in Cambridge. He was so zealous a supporter of the University that he took care to spread its skills and learning throughout the whole country. He was elected to Parliament six times and served his country faithfully. His friends remember and miss his genius, enthusiasm and kindness. He was born on 4th January 1843 and died on 12th October 1913.

James Stuart

Brass located on the south wall of the Ante-Chapel.

Click on the thumbnail for a larger image.