Piero Sraffa, FBA
---
1898-1983. Political economist.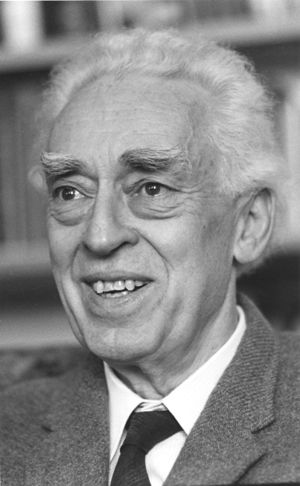 Sraffa was born in Turin, the son of a professor of commercial law; both his parents came from well-known Jewish families. He was educated in Parma, Milan, and Turin, and at the University of Turin, where he graduated as doctor of law in 1920. He became associate professor of political economy at the University of Perugia in 1924 and then professor at the University of Cagliari (Sardinia) in 1926.

After offending Mussolini, Sraffa migrated to England in 1927 and, through the initiative of John Maynard Keynes, was appointed to a university lectureship in the Cambridge Faculty of Economics. In 1930 he resigned his lectureship (he was agonizingly shy about lecturing) and was appointed Marshall Librarian and, soon after, assistant director of research to act as mentor to research students. In 1939 he was elected to a fellowship at Trinity. He was interned, as an enemy alien, in 1940, but through the offices of Keynes was brought back to Cambridge.
Sraffa had a major influence on the intellectual development of the twentieth century. He was a close friend of Antonio Gramsci and Ludwig Wittgenstein as well as Keynes, and collaborated closely with Maurice Dobb. He was made FBA in 1954 and a Reader in Economics at Cambridge in 1963. In 1961 he was awarded the prize of the Stockholm Academy of Science, equivalent to receiving the Nobel prize.
Memorial inscription
Translation

PIERO SRAFFA

ITALIA PROFVGVS CANTABRIGIAE RECEPTVS HVIVS COLLEGII PER XLIV ANNOS SOCIVS DAVIDIS RICARDO SCRIPTA SCRVPVLOSE RECENSVIT QVO ERAT ACVMINE IN REBVS OECONOMICIS TRACTANDIS MVLTOS ARTIS ILLIVS NODOS DENVO TEMPTAVIT BIBLIOTHECAM PRETIOSISSIMAM COLLEGIO LEGAVIT

DECESSIT A.S.MCMLXXXIII AETATIS SVAE LXXXVI



A refugee from Italy, Piero Sraffa found a welcome in Cambridge and was a Fellow of this College for forty-four years. He edited the works of David Ricardo with great care. Highly skilled in the field of economics, he tackled anew many problems in the subject. He bequeathed his library of rare books to the College. He died in 1983 at the age of eighty-five.
Piero Sraffa

Brass located on the north wall of the Ante-Chapel.
Inscription text by Neil Hopkinson.

Click on the thumbnail for a larger image.