Frederick Arthur Simpson
---
1884-1974. Dean of Chapel, historian.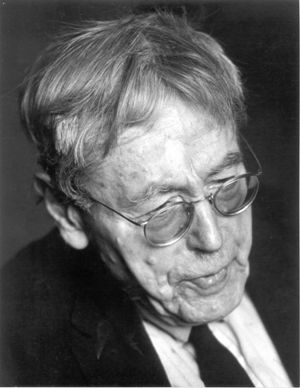 Born in Cumberland, Simpson was educated at Rossall and at Queen's College, Oxford, where he obtained a third class in classical honour moderations in 1904 and a first in modern history in 1906. He was awarded a research studentship, something which was then a rarity.

When he followed in his father's clerical footsteps in Cumberland, becoming curate of Ambleside from 1909 to 1911, Simpson busied himself writing up his research. It was to yield a four-volume work on Louis Napoleon, sometime emperor of the French. The first volume came out in 1909 as The Rise of Louis Napoleon and was extremely well received, for its judicious judgements, fresh information, extracted with extraordinary ingenuity and persistence from the archives, and what was frequently referred to as its lapidary style. The book attracted the attention of a scholar on the way to becoming the best-known historian in the country, G. M. Trevelyan of Trinity College, Cambridge. Simpson himself became a fellow of Trinity in 1911, and remained so until his death sixty-three years later at the age of ninety. From 1915 to 1918 he was a chaplain in the forces.

One further volume of his promised series appeared after a dozen years, Louis Napoleon and the Recovery of France (1923). This is, however, the only title Simpson had to show for half a century and more of a scholar's life. The reason was believed to have been a hostile review of his second book, in fact two reviews, the one in the Times Literary Supplement being anonymous, both of them by the historian and journalist Philip Guedalla. Work was certainly done towards the later volumes, for a chapter was published in 1962 (Historical Journal, 5/2). To all intents and purposes, nevertheless, Simpson's career as a historical writer was over in his fortieth year.

There was an exception, if a five-page article could be said to qualify, in a commentary which he published as a note to the 1943 Rede lecture on G. Lytton Strachey by Sir Max Beerbohm. Simpson caught Strachey cheating in his account of Cardinal H. E. Manning in Eminent Victorians (1918). Apart from this, the intellectual activity of this quintessentially donnish, unmarried college figure, who scarcely stirred out of Cambridge, seems to have consisted in the chiselling out of a few sermons. Each of those he did compose he delivered, with electric effect, on many occasions. He was twice select preacher at Oxford, and three times at Cambridge. There were also his required university lectures, and his college supervision attended by generation upon generation of Trinity undergraduates.

Nearly all the rest of his time, for the remainder of his life, was given over to his eccentricities. These developed themselves as he inhabited his college: at the common table in hall, in his rooms in the Great Court, and above all as a walker through Trinity and its neighbours, snipping, clipping, pruning, lopping the leaves, the twigs, and the branches of the trees and bushes. He seemed omnipresent and could be pointed out with satisfaction to the wondering visitor as Snipper Simpson, the college eccentric. His rooms finally contained a glittering array of pruning instruments, from scissors to pole secateurs. His track round the courts and walks could often be traced by the litter of vegetation which he left behind him.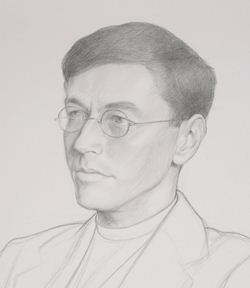 In his earlier years Simpson had made rather bolder excursions into oddity: he owned and had flown for him his own aeroplane of what he would have called a Heath Robinsonian kind. This was piloted by a series of persons who became distinguished aviators, and stories of his flying adventures proliferated. For all the narrowness of his ambit, he was well informed, if sometimes inaccurate in his statements, and could argue with considerable skill even with the most distinguished college guest. He made important and often surprising friends among the hierarchy of the Church of England in spite of the fact that in his later years his belief in the divinity of Jesus seems to have become uncertain. He was undoubtedly popular with undergraduates, to whom he made a number of little benefactions, and showed considerable skill in reconciling the society of fellows to his vagaries, though the long-suffering college servants were naturally the least amenable.

Simpson had the capacity to sustain an attitude and a way of living which were almost entirely anachronistic in his own time, and to attain a degree of eminence in spite of that fact, or even because of it. By the end of his long life—and his reputation was due in no small degree to his longevity—he acted as if he were the last representative of an otherwise extinct race of bachelor don, of Christian priest whose vocation was pulpit eloquence, and of conscious, deliberate eccentric, able to behave in ways which successive cohorts of colleagues and students delighted to make good stories out of.

Nevertheless, Simpson was a man of real gifts as a writer, and as a historian of the early twentieth-century type. If ever a tradition of the haunting of the Great Court at Trinity College, Cambridge, should arise, it must inevitably be the shade of F. A. Simpson which walks in it: a tall, dark, stooped, craggy-faced man in a cloth cap and a dangling grey scarf, in his hand the ghostly glitter of a pair of pruning shears. Simpson died on 6 February 1974 at Cambridge.

Peter Laslett, rev. DNB
Memorial inscription
Translation

FREDERICK ARTHUR SIMPSON

OXONIENSIS HVIVS COLLEGII PER LXII ANNOS SOCIVS PER XXV LECTOR STVDIA DE GESTIS NAPOLEONIS TERTII IMPERATORIS FELICITER INCEPTA PERFICERE DESTITIT SACELLI OLIM DECANVS ADMIRABILI PRAEDICATOR ELOQVENTIA CIRCA COLLEGII HORTOS ARBVSTORVM CVRATOR ASSIDVVS IVNIORIBUS AMICVS VSQVE AD SENECTVTEM FAMILIARIS
OBIIT A.S.MCMLXXIV AETATIS SVAE XCI

cujus animae propitietur Deus




A graduate of Oxford, Frederick Arthur Simpson was a Fellow of this College for sixty-two years and Lecturer for twenty-five years. His Life of the Emperor Napoleon III, propitiously begun, he left unfinished. He was Dean of Chapel and a preacher of wonderful eloquence. He carefully tended the shrubs in the College gardens. Even in old age he was a kindly friend to those younger than himself. He died in 1974 at the age of ninety.

'May God have mercy on his soul.'

Frederick Arthur Simpson

Brass located on the north wall of the Ante-Chapel.
Inscription text by John Burnaby.

Click on the thumbnail for a larger image.