Francis Henry Sandbach
---
1903-91. Professor of Classics.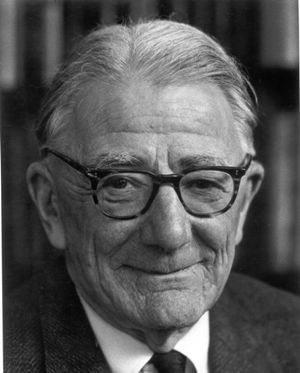 Educated at King Edward's School, Birmingham. Reader in Classics at Cambridge (1951-1970). Wrote on Plutarch, the Stoics, Menander and classical comedy.
Harry Sandbach was born in Edgbaston, the elder son of Francis Edward Sandbach, lecturer and subsequently professor of German in the University of Birmingham, and Ethel Bywater, a teacher. He attended King Edward's School, Birmingham, where he was captain of the school, which he represented at rugby football. In 1920 he was elected to a major scholarship in classics at Trinity, where he began in 1921 a residence that lasted with only short intermissions until his death. His University distinctions included first classes in both parts of the classical tripos, the Browne and Craven scholarships, the first chancellor's classical medal, and the Charles Oldham scholarship. Rejecting the civil service, he embarked on research for a Trinity research fellowship, to which he was elected in 1927 for a dissertation on Plutarch. This he took up in 1928, having from 1926 to 1928 held an assistant lectureship at Manchester.

In 1929 Sandbach was appointed to College and University lectureships in Classics, in 1951 to a Brereton readership, and in 1967 to a personal chair in Classics, the first such appointment in his faculty. That this distinction, and election to the British Academy in 1968, came so late in his career is not wholly attributable to the distractions from scholarship arising from the Second World War and the demands of College administration, engrossing though these were. From 1939 to 1943 Sandbach remained in Cambridge, where in addition to a heavy teaching programme he served as Junior Proctor, air raid warden, and Home Guard. From 1943 he worked in the economics section of the topographical department of the Admiralty in Oxford. He was released in 1945 to take up a Trinity tutorship, and from 1953 to 1956 he was Senior Tutor. As a loyal Trinity man he never begrudged these commitments, and such external factors are not the whole story.

The cast of Sandbach's mind was deliberative. His entry in the Trinity Who's Who when he was an undergraduate read 'Well, it depends'; and many students and colleagues were disconcerted by his habit of thinking for some time before he spoke. Before the war he published many reviews and short notes which attest the range of interests, literary as well as philosophical, embraced by his wide and discursive reading. There being then no pressure on academics to 'produce', he was free to pursue what interested him. The first solid results of these explorations began to appear in the 1960s, in his substantial contributions to the edition of Plutarch in the Loeb Classical Library, for the last volume of which, the fragments, he was solely responsible. He was also working on Menander, having in 1959 accepted an invitation from the Clarendon Press to complete a comprehensive commentary begun by A.W. Gomme. This was published in 1973, and together with the Oxford Classical Text of Menander (1972) constitutes Sandbach's chef d'oeuvre. His international standing in this field was signalled by his election in 1977 to the Royal Society of Arts and Sciences of Göteborg. Two short books for the student and general reader that came out at this time, The Stoics (1975) and The Comic Theatre of Greece and Rome (1977), were warmly appreciated by their intended readership. The former reflected an interest in Stoicism which had originated in his Plutarchan studies, and which was the occasion of his last substantial work, Aristotle and the Stoics (1985). This questioned received ideas on the subject and provoked a lively controversy, issuing in a special conference to debate its findings. A natural bent to literature had received little encouragement from the classical tripos as it was in Sandbach's day and for long afterwards, but he also made a number of distinctive contributions to the interpretation of Latin poetry; in particular, a lifelong and fruitful interest in Virgil, the subject of his first publication, had been stimulated at Manchester by R.S. Conway's notorious 'Virgil Discussions'.

Though his scholarly standards were high and severe, his criticisms were always expressed with courtesy and moderation. As in his scholarship, so in his teaching and lecturing all rhetoric and display were foreign to his nature. He was generous in sharing his learning with others, as many prefaces testify. His upbringing was agnostic, and before leaving school he had come to disbelieve the central tenets of Christianity. Sandbach died in 1991, and was cremated at Cambridge; his ashes were scattered at the crematorium.
DNB
Memorial inscription
Translation

FRANCIS HENRY SANDBACH

HVIVS COLLEGII PER LXIV ANNOS SOCIVS
LECTORIS ET TVTORIS OFFICIIS EGREGIE FVNCTVS IN ACADEMIA CATHEDRAM EXTRAORDINARIAM EMERVIT LIBROS TAM POETARVM QVAM PHILOSOPHORVM VETERVM SCIENTISSIME
CASTIGAVIT ET ENARRAVIT
VIR OB PRVDENTIAM COMITATEM MODESTIAM
COLLEGIS AMICIS PROPINQVIS CARVS

OBIIT A.S. MCMXCI AETATIS SVAE LXXXIX




Francis Henry Sandbach, a Fellow of this College for sixty-four years, held the offices of Lecturer and Tutor with distinction. Through merit he won a personal chair in the University. He most knowledgeably criticised and interpreted the works of both ancient poets and philosophers. He was a man dear to his colleagues and friends on account of his prudence, affability and modesty. He died in 1991 at the age of eighty-eight.
Harry Sandbach

Brass located on the north wall of the Ante-Chapel.
Inscription text by E.J. Kenney.

Click on the thumbnail for a larger image.