Adam Sedgwick, FRS
---
1854-1913. Professor of Zoology.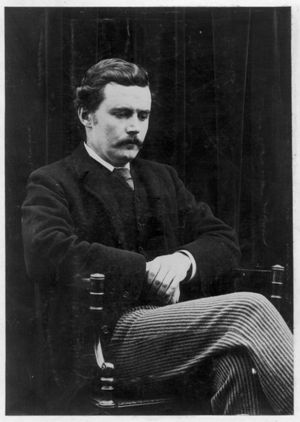 The zoologist Adam Sedgwick was the great-nephew of the geologist Adam Sedgwick, Vice-Master of this College. Through a 15th/16th-century ancestor, Thomas Sigiswicke, both were also related to Henry Sidgwick.
Educated at Marlborough College, he spent a short time at King's College, London, before entering Trinity in 1874. Here he was influenced by the physiologist Michael Foster and the embryologist Francis Maitland Balfour, whose lectures and practical classes attracted him and won him over to a career in zoology rather than medicine.

In 1877 Sedgwick obtained first-class honours in the natural sciences tripos and in 1878 became foundation scholar of Trinity and demonstrator to Balfour. In the latter year he published his first research, with Balfour, on the head-kidney in the embryo chick, a full account appearing in 1879. Independent papers followed, related to kidney development in other organisms, including the marine free-living mollusc Chiton.

In May 1882 Cambridge created a professorship in animal morphology for Balfour and allocated funds for new lecture rooms and laboratory facilities. Two months later, however, these arrangements were threatened when Balfour lost his life in a climbing accident in Switzerland. Under difficult circumstances Sedgwick was asked to assume Balfour's teaching duties, and Trinity appointed him to the College Lectureship previously held by Balfour. In 1884 he was appointed university lecturer in animal morphology with a stipend of £100; in 1890 he became reader. He married Laura Helen Elizabeth Robinson (1874-1950), daughter of Captain Robinson, of Armagh, in 1892 and they had two sons and a daughter. In 1897 he accepted the post of tutor at Trinity, which he held until 1907.

Sedgwick headed a vibrant school of zoology at Cambridge. He supervised elementary biology (required for medical students) and elementary and advanced classes in animal morphology, and directed the work of research students. In the university he, along with Foster, continued Balfour's efforts to increase university support for the life sciences; yet he was unfriendly to the movement to give women full access to the university and its scientific institutions.

Sedgwick's major research work stemmed from Balfour's earlier study of the aberrant terrestrial tracheate arthropod Peripatus (Onychophora), which attracted interest by exhibiting characters of both annelids (segmented worms) and metamerically segmented arthropods (insects, arachnids, and crustaceans). In 1883 Sedgwick travelled to South Africa, collecting over 300 live specimens of P. capensis. He published a series of papers on the embryology and systematics of this transitional form. Collected together in 1889, they are exemplars of classical zoology, combining careful anatomical and embryological descriptions with considerations of leading theoretical questions. After his research ceased in the mid-1890s Sedgwick returned to these questions in a number of general articles. In these he launched an attack on such core biological concepts as cell theory, recapitulation, the biogenetic law, and germ-layer theory, and challenged current views of the evolution of multicellular organisms from protozoans, and the nature of variation and heredity. His attacks on orthodoxy provoked controversy and criticism. Yet his views found a following among his students and future leading figures in British zoology, including Gavin De Beer, C. Clifford Dobell, James Gray, Ernest William MacBride, Edward Stuart Russell, and D'Arcy Wentworth Thompson.

Sedgwick was the author of the influential Student's Textbook of Zoology. Elected Fellow of the Royal Society in 1886, he twice served on its council. He was active in the British Association for the Advancement of Science and in the Cambridge Philosophical Society, serving as president in 1908. In 1898 he was a secretary to the fourth international congress of zoology held at Cambridge, editing its Proceedings. For many years he helped edit the Quarterly Journal of Microscopical Science.

After serving twenty-five years as de facto professor of animal morphology (the position having lapsed on Balfour's death), without the title or the remuneration, Sedgwick was elected, following Alfred Newton's death in 1907, to the vacant professorship of zoology and comparative anatomy. In 1909, however, he resigned to become professor of zoology at the newly constituted Imperial College of Science and Technology. Although it has been suggested that Sedgwick accepted this position out of a sense of duty, he was also distressed by Cambridge ordinances instituted in 1908, placing restrictions on the professor's control of the museum. In London he devoted himself to reorganizing the department and courses in economic zoology, and in the reform of the British Museum (Natural History). However, his health began to fail in 1911 owing to a pulmonary ailment, and after eighteen months of decline, and despite a winter in the Canaries, he died at his home, 2 Summer Place, South Kensington, London, on 27 February 1913.
DNB
Memorial inscription
Translation

ADAM SEDGWICK A.M. R.S.S.

Collegii sanctae et indiuiduae Trinitatis
Discipulus socius tutor
In academia nostra deinde apud londinenses
Zoologiae professor
Rerum physiologicarum scrutator curiosus
Amicus amicis magister discipulis
Ob singularem Animi ac linguae libertatem dilectus
Nomen in huius societatis annalibus
Iam illustre denuo illustrauit
Natus a.s. MDCCCLIV. Obiit a.s. MDCCCCXIII




Adam Sedgwick, M.A., F.R.S., was a Scholar, Fellow and Tutor of the College, and Professor of Zoology in Cambridge and later at London University. A pains-taking researcher into physiology, he was loved as a friend by his friends and as a teacher by his students because of his unusual freedom of thought and language. He brought new lustre to the name of Sedgwick, which was already illustrious in the annals of the College. He was born in 1854 and died in 1913.
Adam Sedgwick

Brass located on the south wall of the Ante-Chapel.
Inscription text by A.F. Hort and H.F. Sandbach.

Click on the thumbnail for a larger image.