Adam Sedgwick
---
1785-1873.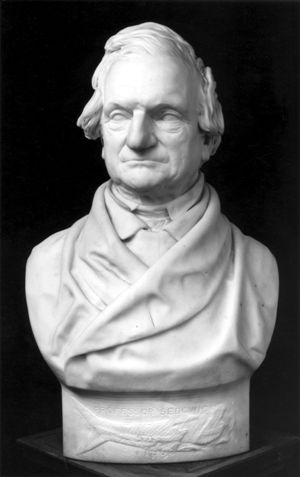 Vice-Master; geologist.
Sedgwick was born in Dent, Yorkshire, the third child of an Anglican vicar. He was educated at Sedbergh School and Trinity, where he studied mathematics and theology, and obtained his BA (5th Wrangler) in 1808 and his MA in 1811. His academic mentors at Cambridge were Thomas Jones and John Dawson. He became a Fellow of Trinity and Woodwardian Professor of Geology at Cambridge from 1818, holding the chair until his death in 1873. He influenced Darwin but opposed the theory of evolution.
Sedgwick studied the geology of the British Isles and Europe. He founded the system for the classification of Cambrian rocks and with Roderick Murchison worked out the order of the Carboniferous and underlying Devonian strata. These studies were mostly carried out in the 1830s. The investigations into the Devonian meant that Sedgwick was involved with Murchison in a vigorous debate with Henry de la Beche, in what became known as the great Devonian controversy.
Sedgwick investigated the phenomena of metamorphism and concretion, and was the first to distinguish clearly between stratification, jointing, and slaty cleavage. He was elected to Fellow of the Royal Society on 1 February 1821.
Sedgwick's great-nephew, the zoologist Adam Sedgwick, is also commemorated in this Chapel.
Tombstone inscription
Translation
ADAM SEDGWICK V.M. 1845-1862
OB. JAN. 27 1873 ÆT. 87
Adam Sedgwick, Vice-Master 1845-1862,
died 27th January 1873 at the age of 86.
Adam Sedgwick

Buried in the Ante-Chapel.