Sir Thomas Sclater
---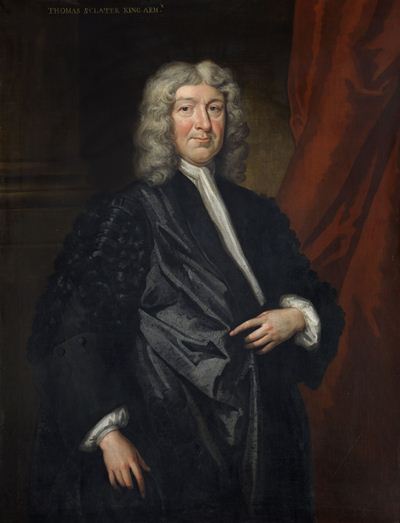 1615-84. Royalist politician, physician and landowner.
Sclater was the son of William Sclater of Halifax, Yorkshire, and was baptized at Halifax on the day of his birth. He is said to have been a Fellow of Cambridge University. He was incorporated BA at Oxford University from 1635 to 1636 and was awarded MA in 1639. He was created Doctor of Medicine in 1649 and was incorporated at Cambridge University in that year, becoming a Fellow of Trinity. In 1659 he was elected Member of Parliament for Cambridge University in the Third Protectorate Parliament. He was ejected from Trinity during the Commonwealth, but reinstated after the Restoration, and worked on the completion of Nevile's Court with Humphrey Babington, the Vice-Master.
He was created 1st Baronet of Cambridge on 25 July 1660. He purchased Catley Park, Linton, in 1674, as well as other estates in Cambridgeshire, and built Hildersham watermill. He was Sheriff of Cambridgeshire from 1683 to 1684.
Sclater married (on 25 February 1653) Susan Comber, the widow of Thomas Comber, Master of Trinity; Susan was a daughter of Freston of Norwich. Sclater died without issue at the age of 69 when the baronetcy became extinct.
Tombstone inscription
Translation

Hic jacet

THOMAS SCLATERUS Baronettus

Hujus Collegij
Prosperis Ecclesiae & Regni temporibus Socius.
Æstu Belli Civilis hinc ejectus
Prudentia Consilio Cura
Rem Nomen Dignitatem Auxit.
Eandem erga suos
quam olim habuit Benevolentiam Retinuit:
Vivus Moriensq[ue]
Munificentia cumulata Collegio Benefecit.
Obijt Dec. 10. 1684. ætat. 69.
Here lies Sir Thomas Slater, Bt, a Fellow of the College when the affairs of the Church and the country remained prosperous. Although he was ejected from the College during the tumults of the Civil War, his wisdom, good counsel and concern furthered his fortune, reputation and dignity. He always kept his original goodwill towards his friends, and both in his life and on his deathbed he benefitted the College by his accumulated wealth. He died on 10th December 1684 at the age of sixty-eight.
Thomas Sclater

Buried in the Ante-Chapel.