Thomas Sekford
---
1608-1624.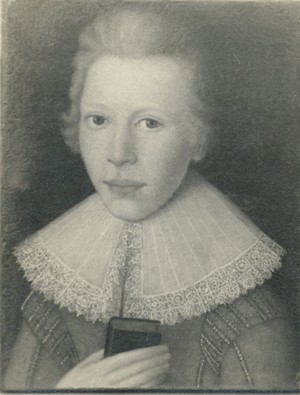 Undergraduate.
Thomas, the sixth Sekford/Seckford to be called by the same Christian name, inherited at an early age the estates of his famous great-uncle, another Thomas.
Born into a well established and wealthy family whose estates stretched over a large part of the east of Suffolk, Thomas Sekford the elder was a Trinity man who became a close friend of William Cecil, later Lord Burghley and a favourite of Queen Elizabeth I. (See the foot of the page for further information.)
His great-nephew Thomas entered Trinity, but died here on 26 June 1624, aged only 16.
This was a shattering blow to his family, which had suffered a series of early deaths. The only surviving member of the immediate family was Thomas's younger sister Mary. The nearest male heir was his uncle Henry, who was greatly distressed at the early demise of his nephew and caused a fine monument to be erected in the ante chapel of the College.
It was described as a painted stone canopied tomb chest with two shields of arms of Seckford impaling Brewster and Seckford. An effigy of a boy in academical dress lies on his right side with head originally propped on the right arm. The forearm and head are now missing.
During 1643 the Chapel was visited by the Puritan iconoclast William Dowsing, whose journal records "we had 4 cherubims and steps levelled", so some of the defacement of the monument might have occurred at that time, although the Collectanea Cantabrigiensia (by Francis Blomefield) of 1751 makes no mention of the damage.
Tomb inscriptions
Translation

THOMAS SEKFORDVS: FILIVS AC HÆRES THOMÆ SEKFORDI MILITIS. EX DOMINA ANNA DILECTA SIBI CONIVGE: NEPOS HENRICI SEKFORDI ARM[IGE]RI, TVNC SVPERS[TI]TIS, NATVS IN AGRO SVFOLC PROPE WOODBRIDG, IN DOMO SEKFORDOR[V]M, DE SEKFORD, NVTRICIA ANTIQVÆ ILLIVS ET GENEROSÆ FAMILIÆ, QVÆ A REGNO EDOVARDI SECVN[DO] ILLIC FLORVIT: QVI CVM PERPAVCOS MENSES IN CELEBERRIMO HOC COLLEGIO TRANSEGISSET, IN QVO SE EXHIBVIT PIETATIS, INGENII, MEMORIÆ, DOCILITATIS ERVDITIONIS RARVM ET SVPRA ÆTATEM SUA[M] NIMIS MATVRV[M] EXE[M]PLAR MORBO CORREPTVS, SPIRITV[M] SVVM IN MANVS DEI IM[M]ORTALIS COM[M]ENDAVIT. TV INTERIM QVI HÆC LEGIS, TECVM REPVTA IN HAC VITA QVOD PRÆCLARVM ÆSTIMAS NON DIV TIBI DVRATVRVM. OBIIT 26O DIE JVNII: ANNO ÆTATIS SUÆ 16O DOMINI 1624O. Henricus Sekford patruus nepoti posuit. Guilielmus Hardwik curavit. Edovardus Woodrofe exculpsit.

Thomas Seckford was son and heir of Thomas Seckford, Knight, by his beloved wife lady Anne, and nephew to Henry Seckford, Esquire, who was at that time still living. He was born near Woodbridge in Suffolk, in the Seckford House in Seckford, the nurse of that ancient and noble family which has flourished there since the reign of Edward II. He spent only a very few months in this famous College, during which time he showed himself, mature beyond his years, to be an uncommon example of piety, intelligence, good memory, willingness to learn, and erudition. He was afflicted by disease and gave up his spirit into the hands of everlasting God. Reader, do you meanwhile remember that what you consider glorious in this life will not last for long. He died on 26th June 1624 at the age of fifteen. His uncle Henry Seckford placed this tablet for his nephew. It was designed by William Hardwick and carved by Edward Woodrofe.

QVID, GENERIS FORMÆQVE MEMOR, MEA DEPRIMIS OSSA INVIDA CONGERIES? NIL MIHI FATA NOCENT: IGNOSCO PAVCOS SI MORS MIHI DEBEAT ANNOS; SAT VIXI, PIETAS SI MIHI ADVLTA FVIT. DVM STVDVI, ET VESTRIS INDVLSI REBVS AMOREM, PARCA MEOS AVSA EST PRÆCIPITARE DIES: DISCITE NIL NOSTRO, IVVENES, TERRORE MOVERI; QUI VITÆ IN LIBRO SCRIBITVR, ILLE STVDET: SIT MIHI SVB TRISTI HOC MORTIS DORMIRE TRIVMPHO: TV VIGILA: HEV FATVM, DVM LEGIS ISTA, VENIT.

THOMAS GOLDFINCH DEFLEVIT.

O tomb which tells of my family and beauty, why do you so grudgingly weigh on my bones? Death can do me no harm. I bear no grudge because death allotted me few years: I lived long enough, if my piety was full grown. Whilst I studied and devoted my love to the College, fate dared to hasten the end of my days. Youths, learn not to be moved by terror at my fate; he whose name is written in the book of life is a student. Let me sleep under this sad triumphal monument of death. Do you be watchful: as you read this, death is on its way. An elegy by Thomas Goldfinch.

ΟΙ ΝΕΚΡΟΙ ΕΝ ΧΡΙΣΤΩ ΑΝΑΣΤΗΣΟΝΤAΙ ΠΡΩΤΩΝ
Thessal: cap: 4 vers: 16

SCIO QVOD REDEMPTOR MEUS VIVIT & IN NOVISSIMO DIE DE TERRA SVRRECTVRVS SVM. IOB 19

SCIO ENIM CVI CREDIDI, & CERTVS SVM QVIA POTENS EST DEPOSITVM MEVM SERVARE IN ILLVM DIEM

QVID PERITVRE PVTAS

The dead in Christ shall rise first. [Thessalonians 4: 16]

For I know that my Redeemer liveth, and that he shall stand at the latter day upon the earth.

For I know whom I have believed and I am certain that he is able to keep that which I have committed unto him, against that day. [Timothy 1: 12]

Remember that you will die.
Thomas Sekford

Buried in the Vestry.
Information taken from A Tudor Worthy: Thomas Seckford of Woodbridge by A. Daly Briscoe 1979
(available in Trinity College Library)