Sedley Taylor
---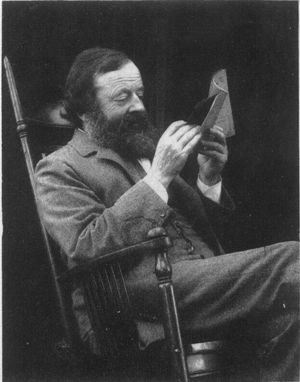 1834-1920. Junior Bursar; Librarian. Author of works on the science of music and on profit-sharing in industry.
Taylor was born at Kingston upon Thames, Surrey, the son of a surgeon. He was educated at University College School, London, and matriculated at Trinity in Michaelmas 1855; he became a scholar in 1857, graduated BA (sixteenth wrangler) in 1859, and proceeded MA in 1862. He was Junior Bursar from 1866 to 1869. Elected a Fellow in 1861, and obliged as Trinity statutes then stood to proceed to ordination, he took deacon's orders and served as curate of St Michael's, Handsworth, Birmingham, in 1863-4. In 1869, however, he wrote that 'a course of inquiry … carried on for several years, has led me to form convictions very seriously at variance with the formularies which bind the conscience of the English clergy' (The System of Clerical Subscription, 1869, 25). In 1897 Taylor declared that his loss of faith had 'dislocated and in great measure crippled' his life (Cambridge Review, 25 Feb 1897, xliii–xlv).

Since he did not take priest's orders Taylor's fellowship lapsed when he ceased to be Bursar in 1869. Thereafter, he resided in Trinity until his death without a post in College or University, apart from serving as Librarian of Trinity in 1870-71: he was of a type that subsequently became rare in Cambridge, dependent for his status as a don on personal activity rather than formal office. He remained unmarried. Conviviality was a way of life, and he took obvious and infectious pleasure in telling jokes and rendering comic songs, although a certain reserve suggested subtlety of character.

Enjoying a private income, Taylor devoted himself to a variety of pursuits and good causes: he gave to many charities and privately to needy students. He was a constant supporter of Addenbrooke's Hospital and in 1907 began, with a crucial gift of funds, the Cambridge Dental Institute for the treatment of children's teeth, the first such agency in England. In 1911 he was given the freedom of the city of Cambridge because of his services. He was Liberal in his politics, and his long-continued advocacy of profit-sharing in industry, on which he became a British expert, should be seen as his sensitive response to current denunciations by Ruskin and others of unbridled capitalism. His essays on the subject were published as Profit-Sharing between Capital and Labour (1884). Taylor was an enthusiast for women's education, and in the 1860s he helped to lead the group of dons planning the college that became Girton; he took a far-sighted view of its future, and opposed Emily Davies herself in his judgement that the college should move from Hitchin to Cambridge: 'the moral objections seem to be imaginary. There has never been the slightest difficulty with the ladies' lectures [at Cambridge], though many of those who attend are young girls' (Stephen, 246). Taylor was a member of Girton from 1872 until his death, and a generous benefactor.

Music was an abiding pleasure and scholarly concern. Absorbed by the physics of music, Taylor carried out experiments on sound in the Cavendish Laboratory, and argued with scientific detail for the superiority of the tonic sol-fa notation over the staff system. He brought to his researches fluency in French and German, and his Sound and Music (1873) transmitted to English readers the revolutionary acoustical theories of Hermann Helmholtz; it enjoyed two later editions, and was a standard textbook until the twentieth century. Other writings, on J.S. Bach and Handel, also exploited continental scholarship, but Taylor too modestly disclaimed his own creative talent, notably in clearly assembling the evidence for Handel's extensive borrowings and his genius in transforming them. Ahead of his time in his devotion to Bach, he translated and published some cantata choruses as anthems. He also composed some short pieces of music, although these attracted little popularity outside Cambridge, and he was a talented pianist and organist. While never having a stipendiary post, he was a luminary of the Cambridge faculty of music during its golden age under Sterndale Bennett and Stanford. Taylor was president of the Cambridge University Musical Society as an undergraduate, and again for many years as a don. He was also a leading figure in the Cambridge University Musical Club, founded in 1889 to promote chamber music; at its 500th concert in 1912 he was acclaimed in a celebration ode as 'chief elder brother of our brotherhood … loving pilot of our music's Odyssey' (Knight, 96).

Taylor was buried in Weston Colville, Cambridgeshire, after a funeral service in Trinity College Chapel.
DNB
Memorial inscription
Translation

HOC MONVMENTO SACRATVS EST

SEDLEY TAYLOR A.M.

HVIVS COLLEGII CVI FORTVNAM SVAM LEGAVIT
OLIM SOCIVS ET BIBLIOTHECARIVS
EIVSDEMQVE THESAVRARIVS IVNIOR
VIR MVSICAE ARTIS PERITISSIMVS
ET IN OMNI VITA CONCORDIAE RETINENS
CIVIS IN POPVLARES AMORE INSIGNIS
EORVMQVE COMMODI STVDIOSVS
IN CONVICTV FACILIS DVLCIS MODESTVS
IN AMICITIA FIDELIS
OBIIT A.D.III ID.MART. MDCCCCXX ANNOS NATVS LXXXV

This monument commemorates Sedley Taylor, M.A. He was Fellow, Librarian and Junior Bursar of the College, to which he bequeathed his fortune. He was deeply versed in music, and observed harmony in everything he did. He was famed for his love for the common people, and endeavoured to work to their advantage. He was an easy, delightful and modest companion and a faithful friend. He died on 13th March 1920 at the age of eighty-four.
Sedley Taylor

Brass located on the south wall of the Ante-Chapel.

Click on the thumbnail for a larger image.