Brooke Foss Westcott
---
1824-1901.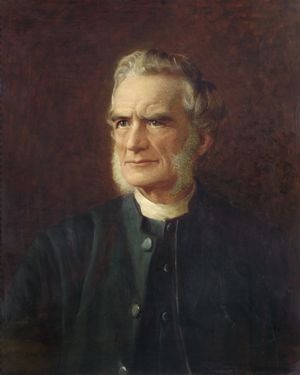 D.D., Lecturer in Divinity, and Bishop of Durham.
Born in Birmingham, Westcott attended the King Edward VI School before coming to Trinity, where he excelled in both Mathematics and Classics, for which he won the second Chancellor's Medal. His religious awareness developed during his undergraduate years. He had doubts and struggles with his faith - Newman's secession to Rome in 1845 disturbed him deeply - but by his third year at Cambridge he was aware of a vocation to the church.
In 1849 he was elected to a fellowship at Trinity. He taught privately and soon gained a reputation as a gifted tutor. Among his pupils were three people who were to become lifelong friends: J.B. Lightfoot and E.W. Benson, old friends from school, and F.J.A. Hort. The friendship with Lightfoot and Hort was to affect the whole pattern of his life and work. In Hort especially he found someone with whom he could share his deepest concerns and convictions.
After ordination in 1851 Westcott left Cambridge to be married, and became a master at Harrow School. Here he began, with Hort, the major project of a critical edition of the Greek New Testament, and published several books. In 1870 he returned to Cambridge Regius Professor of Divinity, simultaneously holding a residentiary canonry at Peterborough Cathedral.
The abolition of religious tests for university entrance in 1871 meant that the relationship between the Church of England and the university had to be reconsidered. Westcott published a series of sermons and papers arguing that the university still had a central religious role in the life of the nation, not primarily to teach the doctrines of the Christian faith, as some thought, but to provide a broad education which embraced history and science, and the old and the new knowledge, and which reconciled the two.

Another urgent requirement was the revision of divinity studies and of regulations for divinity degrees: Westcott was involved in this, and in the attempt to co-ordinate theological studies more satisfactorily. He was the leading figure in establishing a new preliminary examination for those entering the Anglican priesthood in order to raise the standard of the clergy. He became president of a clergy training school in Cambridge, established in 1881, and took an active part in its work; in 1887 a house was purchased to be the home of the school. After his death this was named Westcott House.
Another of Westcott's principal concerns at Cambridge was foreign missions. He reflected deeply on the theology of mission, and on the relationship of Christianity to the other world faiths. It was largely his enthusiasm which led to the founding of the Cambridge mission to Delhi. In 1882 he was elected a fellow of King's College, Cambridge; he received honorary degrees from the universities of Oxford (1881), Edinburgh (1884), and Dublin (1888).
In 1884 he was made a canon of Westminster, where he remained until 1891 when, following the death of his friend Lightfoot, Westcott was invited to follow him as Bishop of Durham. There his sense of social conscience bore fruit as he negotiated with striking miners and brought together employers, trade union representatives, and people involved in the life of the community.
Memorial inscription
Translation

BROOKE FOSS WESTCOTT S.T.P..

COLLEGII SOCIUS
S.THEOLOGIAE PER XX ANNOS PROFESSOR REGIUS
APUD DUNELMENSES PER XI ANNOS EPISCOPUS
INTER OMNES GREGIS SUI ORDINES
PACIS ET CONCORDIAE GRATIOSISSIMUS INTERPRES.
FUIT OMNINO VIR MAGNUS
POTENS IN SCRIPTURIS FERVENS SPIRITU
THEOLOGIAE ET PHILOSOPHIAE
TAMQUAM UNIUS SCIENTIAE VINDEX ET ANTISTES
CHRISTIANAE FIDEI ITA DEDITUS
UT QUAM SCRIPTIS ET INGENIO ILLUSTRABAT
EAM VITA ORATIONE IPSO VULTU EXPRESSERIT.

NATUS PRID.ID.IAN. A.S.MDCCCXXV
OBIIT A.D.VI KAL.SEXT. A.S.MCMI.

.

Brooke Foss Westcott, D.D., was Fellow of the College, Regius Professor of Divinity for twenty years, and Bishop of Durham for eleven years. He showed all classes of his flock the path of peace and harmony. He was in every respect a great man: powerful in his writings, fervent in spirit, and a most influential defender and advocate of both theology and philosophy, which he treated as a single discipline. He was so devoted to the Christian faith which he illuminated with his writings and intellect that his life, his speech and his very face proclaimed it. He was born on 12th January 1825 and died on 27th July 1901.
Brooke Foss Westcott

Brass located on the north wall of the Ante-Chapel.
Inscription text by H. Montague Butler.

Click on the thumbnail for a larger image.
| | | |
| --- | --- | --- |
| PREVIOUS BRASS | | NEXT BRASS |