James Ward
---
1843-1925.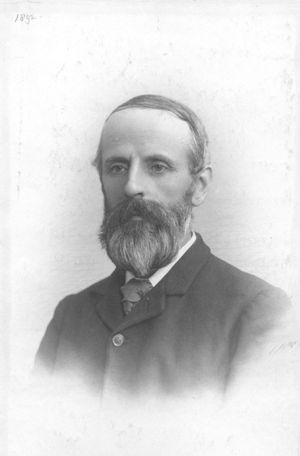 Lecturer and Professor of Mental Philosophy and Logic.
The eldest of nine children, James Ward was educated briefly at the Liverpool Institute. At the age of eleven, during a brief period of family prosperity, he was sent to Mostyn House, a preparatory school for Rugby School at Parkgate on the Wirral peninsula. Two years later, when his father went bankrupt, his formal schooling ended. The family settled in a small house at Waterloo, a village near Liverpool, and James was left free to roam the neighbouring sandhills. For the first time he became aware of the pleasures of the natural world. Later he said, 'it was here that the optimism began, in those wild wastes absolutely untouched by the hand of man; … all was beautiful, all was good, and I was one with it all'.

Ward's father arranged for his apprenticeship to a firm of architects in Liverpool before Ward turned sixteen. The father had noticed James's talent for draughtsmanship when he asked him to sketch an invention—one of the father's many failed business schemes. Ward's architectural experiences did not make much of an impression on his later life, except that he retained enough knowledge to torment the architects whom he later hired. In this period Ward studied Greek and logic, and he was also an enthusiastic Sunday school teacher. After four years of office work he decided, to his family's delight, to become a minister.

Ward, like his family, was a Congregationalist, biblical and Calvinist in his theology. In 1863 he managed to enter Spring Hill College, near Birmingham (later absorbed in Mansfield College, Oxford). He remained there until 1869, taking the London BA degree examinations, along with his theological course. His time there was not unhappy, although he was harassed by the bad health which was to bedevil him his entire life, by his insufficient means, and possibly already by religious doubt.

Funded by a scholarship Ward went to Germany, where he encountered a new theological environment and became immersed in speculations on fundamental problems. He studied with I.A. Dorner and R.H. Lotze, who exerted a permanent influence on his thought; he left at the outbreak of the Franco-Prussian War. Unsettled and unsettling as his speculations were, Ward still saw himself as a Christian.

After returning to Britain Ward went to Cambridge, where he preached for a month at Emmanuel Congregational Chapel. He accepted a call to be its minister in January 1871, and although never ordained, remained until March 1872. His preaching was controversial. Never very charismatic, his liberal tone offended some of the congregation, in particular many of those involved in fund-raising for a new chapel. At the same time, in what he later recalled as the most unhappy period of his life, a struggle was going on in his own mind which led Ward to conclude that his teaching was not appropriate to the Christian pulpit.

The Cambridge philosopher Henry Sidgwick persuaded Ward that there were other possibilities for him, and at twenty-nine Ward entered Cambridge University as a non-collegiate student. Although not estranged from his family—he made payments to his father's creditors for the entirety of his father's long life—Ward was never again as close to them. His university entry was the first step away from his past life. In 1873 he gained an open scholarship at Trinity; a year later he was placed alone in the first class in the moral science tripos, and in 1875 he was elected to a fellowship at Trinity which he held for the remainder of his life. The break with his former career was complete: he always held himself aloof from institutional religion, but he did not tend towards secularism or even agnosticism. His early belief in spiritual values and his respect for all sincere religion never left him: 'he buried the past, he burned his boats; but he remained for all that a native of other shores'.

Ward's academic career then followed a normal course, but rather slowly. He began lecturing for the moral sciences tripos in 1878, through Sidgwick's influence became a College lecturer in 1881, and in 1897 was appointed to the newly-founded professorship of mental philosophy and logic.

Like many who moved away from evangelical religion, as Ward's religious fervour faded his interest in nature revived. One day, on a walk, 'the old feeling of the would-be naturalist of ten years ago rose up and confronted the self-excommunicated sceptic'. After his election to the Trinity fellowship he worked in Carl Ludwig's physiological institute at Leipzig for a year. Returning to Cambridge, he worked in Michael Foster's physiological laboratory. Ward's was now the career path of a promising young physiologist. Indeed, when he turned towards the domain of the mind and away from experimentalism, which he found frustrating, Foster lamented that Ward was a 'physiologist spoiled'.

Ward published two physiological papers but then turned to the study of psychology, publishing articles in Mind and making contributions to the Encyclopaedia Britannica, including the article 'Psychology' in the ninth edition, which had an immediate and profound effect upon the teaching of psychology, and it is almost entirely due to the influence of the article that when his book Psychological Principles finally appeared in 1918, the Times reviewer dubbed Ward 'the Father of Modern British Psychology'.

In 1880 and for a few years afterwards Ward also lectured on education, and these lectures form the basis of his Psychology Applied to Education (1926). He was Gifford lecturer at Aberdeen University, 1895-8, and again at St Andrews University, 1907-10. In each case the result was an important philosophical treatise—Naturalism and Agnosticism (1899) and The Realm of Ends, or, Pluralism and Theism (1911). In 1912 he gave the Henry Sidgwick memorial lecture Heredity and Memory (published 1913) at Newnham College, where his wife Mary was a lecturer. Ward, like Sidgwick had been, was a strong supporter of the 'woman's cause'. He was among the first at Cambridge to open his lectures to women.

Ward's politics were liberal and progressive, and he moved eventually from the Liberal to the Labour Party. The idealist philosopher and close colleague W.R. Sorley wrote: 'Not liberalism only but Nonconformity was in his blood, and he was always inclined to sympathize with the individual who appeared to be oppressed by the institution—whether church or state or trade-union' (Sorley, Mind, 275). Characteristically, during the First World War, Ward protested at the dismissal of Bertrand Russell—who later called Ward 'my chief teacher'—from his Trinity lectureship.

After his first physiological articles Ward's early published work was almost entirely psychological, although his writings demonstrated a philosophical bent; after 1894 his work was mainly philosophical. As a philosopher Ward's most enduring contribution was his attack on the scientific naturalism of the late nineteenth century, but he dismantled it so effectively that his criticisms seemed quaint and redundant to the next generation of philosophers.

Much honoured in his lifetime, Ward received the honorary degree of LLD from Edinburgh University in 1889 and from his own University in 1920; he was a founding fellow of the British Academy, and was elected a correspondant of the Institut de France.
DNB
Memorial inscription
Translation

IACOBVS WARD

NATVS A.D.VI KAL.FEB. MDCCCXLIII HVIVS COLLEGII L ANNOS SOCIVS PHILOSOPHIAE XXVIII ANNOS IN VNIVERSITATE PROFESSOR VIR QVI NEC SIBI NEC ALIIS FACILE PARCERET PRISCA MORVM SEVERITATE OMNIVM VENERATIONEM COMITATE HVMANISSIMA PLVRIMORVM MERVIT AMOREM HIC VERITATIS IMAGINEM CVIVS DESIDERIO A PRIMA PVERITIA PER SVMMAS RERVM ANGVSTIAS OMNIA POSTHABVERAT FRVSTRA VT CREDEBAT IN SACRO MINISTERIO IN QVAESTIONIBVS NATVRALIBVS FELICIVS PERSECVTVS IN PHILOSOPHIA VT SPERABAT TANDEM PAENE COMPLEXVS INDEFESSO ARDORE ADHVC PERSEQVENS MORTEM OBIIT A.D.IV NON.MART. MDCCCCXXV

Born on 27th January 1843, James Ward was Fellow of the College for fifty years and Professor of Philosophy in the University for twenty-eight years.
A man who found it hard to show forbearance either to himself or to others, he won the respect of all for the antique gravity of his manners, and the love of many for his kind and affable nature. From his early youth, and even in the most straitened circumstances, he had prized above all else the desire for truth. This he pursued, to his mind fruitlessly, during a career in the Church, and then with more success in scientific investigations. In studying philosophy he hoped that he had at last almost embraced it; and, while still continuing his pursuit with untiring passion, he died on 4th March 1925.
James Ward

Brass located on the north wall of the Ante-Chapel.
Inscription text by Donald Struan Robertson.

Click on the thumbnail for a larger image.
| | | |
| --- | --- | --- |
| PREVIOUS BRASS | | NEXT BRASS |