Carl Winter
---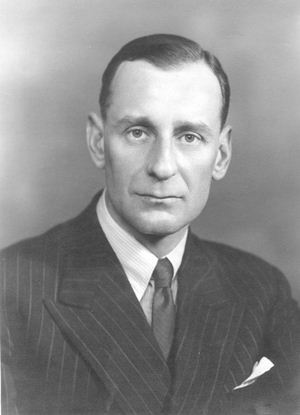 1906-66. Director and Morley Curator of Fitzwilliam Museum.
Carl Winter was born in Melbourne, Australia, and educated at Xavier College, Kew, Melbourne. He was a Fellow of Trinity from 1946 until his death.
An art historian and museum curator, he worked at the Victoria & Albert Museum's collection of English watercolours and miniature portraits before moving to the Fitzwilliam Museum in 1946.
His twenty-year directorship was a time of both consolidation and considerable expansion of the collections. Although money remained scarce in the Museum, following the War, important acquisitions continued to be made, thanks to the support of the Friends. They included the Beauvais tapestry of Apollo & Clytie (given in 1949) which now graces the Courtauld staircase, and the Lute Book of Lord Herbert (given in 1956) which reinforced the strong musical theme of the collection.
By 1952, the Director was able to report:
There is scarcely a wall, or a case, that does not exhibit one or more admirable works of art given during the last 44 years by the Friends. It is impossible to imagine the Fitzwilliam without this ever-growing array of familiar, favourite objects which it owes to the collective effort, the practical personal regard and generosity of this body.
Together with Patrick Trevor-Roper and Peter Wildeblood, Winter gave evidence to the Wolfenden Committee, whose report led in 1967 to the decriminalisation of sex between adult male homosexuals. He gave evidence anonymously as "Mr White". Trevor-Roper and Winter came forward mainly because they had heard that Wildeblood was to testify and they wanted to counteract the bad impression they knew he would make. They both said that sexual orientation was innate and not the result of "seduction" or "recruitment": a vital point in persuading the committee, and thus the government, to agree to decriminalisation. They both asserted that the majority of gay men were perfectly happy with their sexuality and led generally ordinary, well-adjusted lives. "I am content to know the sort of people I do know, which covers a very wide field," said Winter, "and we are all completely at ease in one another's company and the world in which we live, which is a much more extensive world, I think, than many people would suppose." His testimony to the Committee was portrayed in the BBC television dramatisation, Consenting Adults.
Memorial inscription
Translation

CARL WINTER

AVSTRALIAE FILIVS OXONII ALVMNVS ITALIAE AMATOR
MULTARVM ARTIVM PERITVS
MVSEI FITZWILLIAMENSIS PER VIGINTI ANNOS RECTOR
NECNON HVIVS COLLEGII SOCIVS VIR SALIS EXIMII IVDICII SVBTILIS MIRAE IN MORBO FORTITVDINIS
OBIIT A.D. MCMLXVI AETATIS SVAE SEXAGESIMO

Carl Winter was an Australian, a graduate of Oxford and a lover of Italy. Knowledgeable about many of the arts, he was Director of the Fitzwilliam Museum and Fellow of this College for twenty years. He was a man of great wit, fine taste and, during his last illness, remarkable bravery. He died in 1966 in his sixtieth year.
Carl Winter

Brass located on the north wall of the Ante-Chapel.
Inscription text by J.S. Morrison / Patrick William Duff.

Click on the thumbnail for a larger image.
| | | |
| --- | --- | --- |
| PREVIOUS BRASS | | NEXT BRASS |