William Corker
---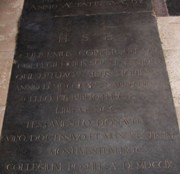 1632-1702.
Minor Fellow in 1657; Major Fellow in 1660; Proctor; Vicar of Barrington.
Prebendary of Sarum. Left his library to the College. Gave £500 'to adorn the Chapel' and £200 for the Library.
Tombstone inscription
Translation

H S E GULIELMUS CORKER ART MAG

COLLEGII HUIUS SOCIUS SENIOR
QUI SEPTUAGENARIUS MORIENS
ANNO D MDCCII MENSE APRILI DIE XXX
SACELLO ET BIBLIOTHECÆ LIBRAS DCC
TESTAMENTO DONAVIT
VIRO DOCTISSIMO ET MUNIFICENTISSIMO
MONUMENTUM HOC COLLEGIUM POSUIT A.D. MDCCIX
Here is buried William Corker, M.A., a Senior Fellow of the College. He died in his seventieth year on 30th April 1702. In his will he left seven hundred pounds to the Chapel and the Library. In 1709 the College set up this memorial to a very learned and generous man.
William Corker

Buried in the Ante-Chapel.