Peter Courthope
---
1676-95.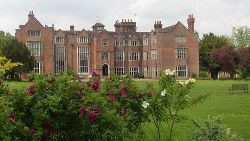 Undergraduate: matriculated in 1695 and died in the same year.
Tombstone inscription
Translation

Hic sepultus est Petrus Courthope

Petri Courthope de Danny in Com: Suss: Arm.
Filius natu minimus
Hujus Collegij alumnus
iuvenis
Pius candidus innocens
Qui summa industria et virtute singulari,
Ad optima omnia contendebat
Laudabili ambitione & felici
Ita brevem vitam magnis virtutib[us] honestavit
Ita plurimas virtutes insigni modestia exornavit
Ut neminem non invenerit aut illarum laudatorem
Aut saltem hujus Fautorem
Multa de eo sperabat pater optimus,
Illas tamen ipsas spes facile erat vel superaturus,
sed inter magna quæ consecutus erat
et majora quæ moliebatur,
Crudeliter extinxerunt morbilli,
Excogitandumque (si possimus modo) restat,
Qualis ille senex futurus fuit,
Qui cœlo extitit, etiam juvenis maturus

Obijt Dec. 31.1695. ætat suæ 20.
Here is buried Peter Courthope, youngest son of Peter Courthope, Esquire, of Danny in Sussex. He was an undergraduate of the College. A pious, open and blameless youth, by remarkable hard work and uncommon virtue he was able to strive for excellence with praiseworthy and successful ambition. He graced his short life with such great virtues, and adorned these many virtues with such distinguished modesty, that no one could be found who did not either praise his virtues or look with favour on his modesty. His worthy father hoped for much from him; but he would easily have exceeded even those hopes if he had not been cruelly killed by disease between his previous great achievements and the even greater successes which he had in mind. It remains for us to imagine, if we only can, what this man would have been in old age, whose reputation reached the skies when he was still a youth, wise beyond his years. He died on 31st December 1695 at the age of nineteen.
Peter Courthope

Buried in the Ante-Chapel.