Isaac Hawkins Browne
---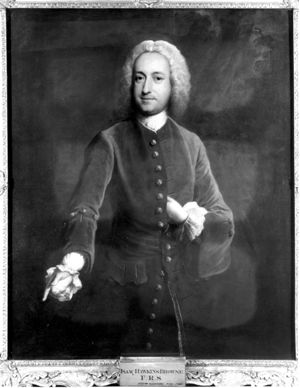 1706-60. Poet. He entered Trinity but there is no record of his having graduated; however he became a barrister and later MP for Much Wenlock in Shropshire for ten years, and was made FRS in 1750. A friend of Dr Johnson who called him "one of the first wits of this country".
His son, another Isaac Hawkins Browne, was an essayist and MP for Bridgnorth, Shropshire.
Browne the elder's poetry includes De animi immortalitate and A pipe of tobacco in which Browne imitates contemporary authors.
Blest leaf! Whose aromatic gales dispense
To templars modesty, to parsons sense:
So raptured priests, at famed Dodona's shrine
Drank inspiration from the steam divine.
Poison that cures, a vapour that affords
Content more solid than the smile of lords:
Rest to the weary, to the hungry food,
The last kind refuge of the wise and good.
Inspired by thee, dull cits adjust the scale
Of Europe's peace when other statesmen fail.
By thee protected, and thy sister, beer,
Poets rejoice, nor think the bailiff near.
Nor less the critic owns thy genial aid,
While supperless he plies the piddling trade.
What though to love and soft delights a foe,
By ladies hated, hated by the beau,
Yet social freedom, long to courts unknown,
Fair health, fair truth and virtue are thy own:
Come to thy poet, come with healing wings,
And let me taste thee, unexcised by kings.

Memorial inscription
Translation

M.S.

ISAACI HAWKINS BROWNE A.M.

GVLIELMO BROWNE NATI,
HVIVSCE COLLEGII,
CVIVS ET PATER SOCIVS FVERAT, ALVMNI;
POETAE VENVSTI, SVBLIMIS;
SENATORIS SPECTATI, GRAVIS;
VIRI EXCELLENTI ANIMO, AC VIRTVTE PRAEDITI.

IMMORTALITATE, QVAM CHRISTIANVS PRAESENSERAT,
VATES ILLVSTRAVERAT, FRUI COEPIT A.S. MDCCLX AET. LV. VT AEDES, QVAS VIVVS COLEBAT,
DEFVNCTVM NE SILERENT;
HOC MARMOR
PATRI OPTIMO FILIVS VNICVS I.H. BROWNE P.C.

FLAV. B. SCUL (?)

Sacred to the memory of Isaac Hawkins Browne, M.A., son of William Browne. He was an undergraduate of this College where his father had been a Fellow. A graceful and lofty poet and a distinguished and dignified Member of Parliament, he was a man of first-rate intellect and remarkable virtue. In 1760, at the age of fifty-four, he began to enjoy the everlasting life of which he had had a foreknowledge as a Christian and which he had adorned as a poet. His only son, I.H. Browne, supervised the erection of this tablet for his most excellent father in order that this Chapel, which he loved while alive, might not fail to commemorate him when dead.
Isaac Hawkins Browne

Sculpture by Flaxman located on the south wall of the Ante-Chapel.