George Chare
---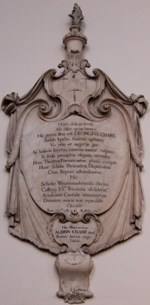 Chare was born on 12th October 1646, the third son of John Chare of Wandsworth. He studied at Merchant Taylors' School and Westminster School, where he was a King's Scholar. Having also won a scholarship in his second year at Trinity he was elected to a Fellowship in 1670, and became a Tutor four years later. He died in College, in 1676, and was buried in the Ante-Chapel.
Tombstone inscription
Translation

Hic beatam in Christo Resurrectionem manet, Georgius Chare Magister in Artibus, & dignissim[us] nuper hujus Collegii Socius, qui ex hac vita demigravit 27o die Januarij Anno Salutis 1676/7

Here awaits a blessed resurrection in Christ George Chare, M.A., lately a most distinguished Fellow of the College, who departed this life on 27th January 1676.

Sculpture inscription
Translation

Hujus deliciæ seculi
Ah! Disce quam breves;
Hic juxta situs est GEORGIVS CHARE,
Sodalis lepidus, Amicus optimus,
Vir otio et negotiis par:
In ludicris facetus, innocens minimè vulgaris,
In serijs promptus, elegans, nervosus.
Hunc Theatrum Prævaricantem plausu excepit.
Hunc Scholæ Perorantem Disputantem
Cum stupore admirabantur.

Hic
Scholæ Westmonasteriensis decus,
Collegij SS.æ Trinitatis desideriuˉ
Academiæ Cantabr. ornamentum
Damnum amicis non reparabile
Occidit
Ian. 27o 1676 Ætat. 31o.

Hoc Monumentum
ALBION CHARE Armi
Fraterni Amoris ergo
Posuit

I. Latham Fecit

Ah! Learn how brief are the pleasures of this life: near here is buried George Chare, a charming companion, an excellent friend, a man fitted to both leisure and business. When at play he was merry, harmless and never vulgar; in serious matters he was forthcoming, judicious and energetic. The theatre received him with applause when he acted the part of Praevaricator*; the University admired with amazement his orations and disputations.

He, the glory of Westminster School, the keenly felt loss of Trinity College, and the ornament of the University of Cambridge, caused an irreparable loss to his friends by his death, on 27th January 1676, aged 30.

Sir Albion Chare set up this monument in brotherly love.

Made by I. Latham.

* Prævaricator: an orator who makes a humorous or satirical speech at the degree ceremony
George Chare

Buried in the Ante-Chapel.
Sculpture on the north wall of the Ante-Chapel.
Arms: Argent 3 millpicks sable and a mullet (small star) for difference.