Peter Paul Dobree
---
1782-1825. Regius Professor of Greek, pupil of Porson.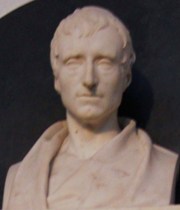 Dobree was born in Guernsey and educated at Reading School under Richard Valpy and at Trinity, where he subsequently became a Fellow. He was appointed as Regius Professor of Greek in 1823, but died in Cambridge two years later.
He was an intimate friend of Richard Porson, whom he took as his model in textual criticism, although he showed less caution in conjectural emendation. After Porson's death (1808) Dobree was commissioned with James Henry Monk and Charles James Blomfield to edit his literary remains, which had been bequeathed to Trinity.
Illness and a subsequent journey to Iglesias in Sardinia delayed the work until 1820, when Dobree brought out the Plutus of Aristophanes (with his own and Porson's notes) and all Porson's Aristophanica. Two years later he published the Lexicon of Photius from Porson's transcript of the Gale manuscript in Trinity College library, to which he appended a Lexicon rhetoricum, from the margin of a Cambridge manuscript of Harpocration.
James Scholefield, his successor in the Greek professorship, brought out selections from Dobree's notes (Adversaria, 1831-1833) on Greek and Latin authors (especially the orators), and a reprint of the Lexicon rhetoricum, together with notes on inscriptions (1834-1835).
An appreciative estimate of Dobree as a scholar will be found in J. Bake's Scholica hypomnemata, ii (1839) and in the Philological Museum, i (1832) by J.C. Hare.
In his will he bequeathed one thousand volumes to be selected by the College out of his very valuable libary.
Wikipedia/Cooper
Sculpture inscription
Translation

M.S. VIRI REVERENDI PETRI PAULI DOBREE A.M.

EX INSULA GUERNSEY ORIUNDI,
COLLEGII HUJUS S.S. TRINITATIS SOCII,
ET GRÆCÆ LINGUÆ IN HAC ACADEMIA PROFESSORIS REGII.

VIR ERAT PROBUS, CANDIDUS, SIMPLEX
A FASTU OMNI AC FUCO ALIENISSIMUS,
SERMONE COMIS, ANIMO ÆQUABILIS AC LENIS,
TAMEN UT FACILE COMMOVERETUR,
SI VEL PATRIÆ VEL SINGULORUM JURA
IN DISCRIMEN PUTARET ADDUCI.
AD HAS VIRTUTES ACCESSERUNT
INGENIUM ACUTUM, JUDICIUM SANUM,
INDEFESSA PRO VALETUDINE INDUSTRIA,
MAGNA PHILOSOPHIÆ MORALIS AC THEOLOGIÆ,
MAXIMA LITTERARUM LATINARUM AC GRÆCARUM PERITIA,
TANTA IN CORRUPTIS VETERUM AU[C]TORUM
LOCIS DETEGENDIS SAGACITAS, EMENDANDIS FELICITAS,
UT PORSONI, CUJUS IN FAMILIARITATE INTIME ERAT VERSATUS, VESTIGIA VIX IMPARI GRESSU SEQUI VIDERETUR.

IMMATURA MORTE PRÆREPTUS EST,
A.D. MDCCCXXV, ÆTATIS XLIII.

'SOROR UNICA PONI CURAVIT.'

BAILY R.A. SC LONDON

Sacred to the memory of the Revd Peter Paul Dobree, M.A., who was born in Guernsey and was a Fellow of the College and Regius Professor of Greek in the University. An upright, open and modest man, he was a stranger to all conceit and pretence. A delightful conversationalist, he had an unruffled and even temperament, save that he was easily moved whenever he thought that the law of the land or the rights of individuals were being endangered. To these virtues he added a keen intellect, sober judgement, and untiring industry even in periods of ill-health. He was greatly learned in moral philosophy and theology, and even more so in Latin and Greek literature. He had such wisdom in detecting corruptions in the texts of the ancient authors and such happy skill in emending them that he seemed to follow, with scarcely unequal strides, in the steps of Porson, whose close friend he had been. He was snatched away by an early death in 1825 at the age of forty-two.

'His only sister supervised the erection of this memorial.'

Carved by Edward Hodges Baily, R.A., at London.
Peter Paul Dobree

Bust by Baily located on the north wall of the Ante-Chapel.
Memorial text by John Kaye, Bishop of Lincoln.