Daniel Lock
---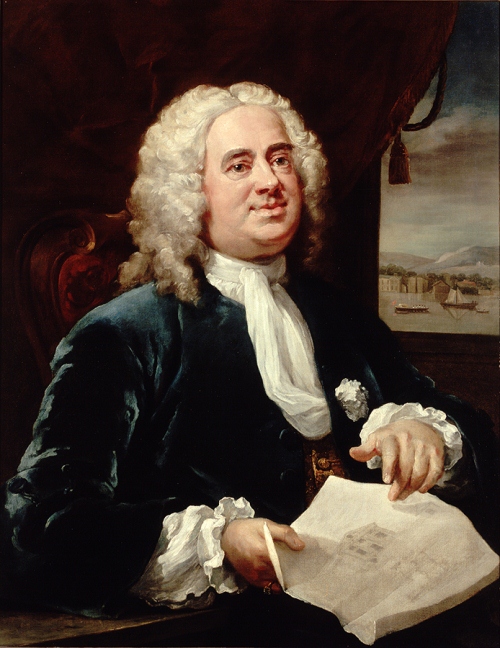 1686-1754. Architect and artist.
The designer of the Foundling Hospital in London; in this portrait Lock is seen holding a plan for the Hospital.
Lock was the donor of the bust of Bacon in the College Library, and a close friend of Roger Cotes. He was a member of the Free Society of Artists, which is where he might have met William Hogarth, who painted this portrait; Hogarth was also a founding Governor of the Foundling Hospital.
Roubiliac's bust shows Lock surrounded by emblems of architecture, painting, sculpture and music.
Portrait of Daniel Lock F.S.A., 1762 by William Hogarth (English, 1697-1764)
Oil on canvas
Bequest of David B. Goodstein, Class of 1954
86.030.004
Photography courtesy of the Herbert F. Johnson Museum of Art, Cornell University

Sculpture inscription
Translation

Hic juxta Cineres cari Cotesii,
Suos etiam requiescere voluit

DANIEL LOCK hujus Collegii A.M.

Vir si quis alius,
Architecturæ, Sculpturæ, Picturæ, Musicæ,
Omniumque bonarum Artium amantissimus:

Nec pudet inventas Vitam excoluisse per artes.

Obiit 15 Janrii 1754. æt: 69.

Daniel Lock, M.A. of the College, wished that his ashes might rest next to those of his dear friend Cotes. He was a man as deeply attached as anyone to architecture, sculpture, painting, music and all the fine arts.

'There is no shame in a life improved by the arts of man.' [Bentley].

He died on 15th January 1754 at the age of sixty-eight.
Daniel Lock

Bust by Louis-François Roubiliac located on the north wall of the Ante-Chapel.