James Lambert
---
1742-1823. Regius Professor of Greek.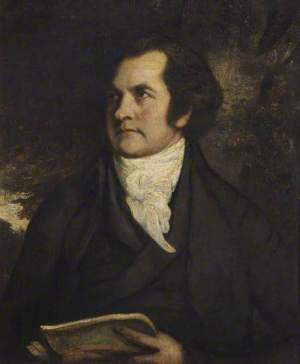 Lambert was bom on 7 March 1741, the son of Thomas Lambert, vicar of Thorp, near Harwich, and afterwards rector of Melton, Suffolk. After being educuted at Woodbridge grammar school, he followed his father to Trinity, where he graduated as tenth wrangler and senior medallist in 1764, and proceeded MA in 1767, having obtained a fellowship in 1766. For a short lime he served the curacy of Alderton and Bawdrey near Woodbridge. He was assistant tutor at Trinity for some years, and in 1771 was elected Regius Professor of Greek; there was no other candidate. In 1773 the young Richard Porson was sent to him at Cambridge to be tested as to his fitness to receive the education which one Mr. Norris was proposing to give him; and it was through Lambert's means that he was examined by the Trinity tutors, and was in consequence sent to Eton.
Lambert gave up his assistant tutorship in 1775, and for some years superintended the education of Sir John Fleming Leicester, returning to College with his pupil in 1782. He resigned the Greek professorship on 24 June 1780. He was a strong supporter of Samuel Jebb of Peterhouse in his proposal for annual examinations at Cambridge, and was a member of the syndicate appointed in 1774 to consider schemes for this and other improvements in the University course of education; their proposals, however, were all thrown out by narrow majorities in the Senate. In 1789 he was appointed Bursar of Trinity, and held the office for ten years; a road near Cambridge, connecting the Trumpington and Hills roads, is still known by the name of the 'Via Lambertina.' He latterly adopted Arian opinions, and never accepted any preferment in the church, but he kept his fellowship till his death. His portrait hangs in the smaller combination room at Trinity.
Sculpture inscription
Translation

M.S. JACOBI LAMBERT A.M.

GRÆCARUM LITERARUM IN HAC ACADEMIÂ
OLIM PROFESSORIS REGII
NECNON PER XXXIII FERE ANNOS
HUJUS COLLEGII E SENIORIBUS

NATUS MAR. 11. A.D. 1741-2 OBIIT APR. 28. A.D. 1823,
ET IN ECCLESIÂ PAROCHIALI DE FERSFIELD
IN AGRO NORFOLCIENSI SEPULTUS EST.
Sacred to the memory of James Lambert, M.A., Regius Professor of Greek in the University, and for almost thirty-three years one of the Senior Fellows of the College. He was born on 11th March 1742 and died on 28th April 1823, and he is buried in the parish church of Fersfield in Norfolk.
James Lambert

Sculpture located in the Vestry.