Thomas Jones
---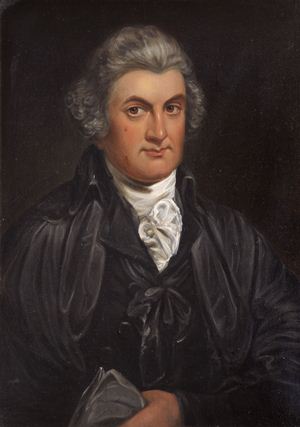 1756-1807. Fellow and Tutor. Byron and Whewell were amongst his last students.
Jones was born in Berriew, Montgomeryshire, and educated locally and at Shrewsbury Grammar School before entering St John's College Cambridge, where he shone in philosophy and mathematics. He would have been awarded a fellowship at St John's, had there not been a statute preventing more than one Fellow from the same diocese at a time; since there was already a Fellow from St Asaph's, Jones moved to Trinity. Here he degraded for a year, in order to have resided in College for a year before becoming a Fellow. He graduated as Second Wrangler.
He became Senior Tutor, and in 1786 and 1787 was Moderator in the Philosophical Schools, where his acuteness and impartiality were conspicuous. At around that time he introduced a Grace, whereby Fellow-Commoners, who used to obtain the BA degree with little or no examination, were subjected to the same con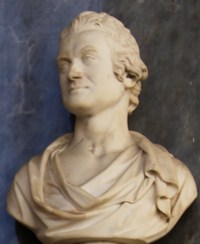 ditions as other undergraduates.
He was a popular lecturer, and he was urged to publish his lectures on astronomy and the 'principles of fluxions'; however the only things he published were a cautionary sermon on duelling, and an Address to the Volunteers of Montgomeryshire, intended to rouse his countryment to volunteer to fight for their country. His goal in lecturing was always to argue from the structure of the universe to the being and attributes of God.
He is buried in the cemetery of Dulwich College.
Memoir of the late Revd. Thomas Jones, by Herbert Marsh (Bishop of Peterborough)/Cooper
Sculpture inscription
Translation

REVDUS THOMAS JONES A.M.

HUJUS COLLEGII E SENIORIBUS,
ET PER VIGINTI ANNOS TUTOR EXIMIUS;
OBIIT 18 JUL. A.D. 1807 AETATIS SUAE 52

SEPULTUS JACET IN COEMETERIO COLLII DULVICENSIS
PROPE LONDINIUM

NOLLEKENS FT

The Revd Thomas Jones, M.A., was a Senior Fellow of the College and for twenty years an excellent Tutor. He died on 18th July 1807 at the age of fifty-one and is buried in the cemetery of Dulwich College near London.

Made by Joseph Nollekens.

Thomas Jones

Bust by Nollekens located on the south wall of the Ante-Chapel.