Francis Hooper
---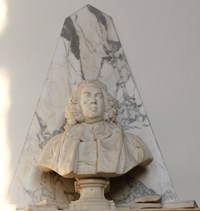 1694-1763. Doctor of Divinity, Senior Fellow.
Hooper was Rector of Gallow and Brothercross Hundreds, Thorpland, Norfolk, from 1758 until his death in 1763. He published several books including a Latin thesis on the origin of the Jews, and a French edition of Propertius.
He was the Keeper of the Chatham Library, Manchester. In his will he bequeathed monies for Trinity's new bridge, built in 1765. He also left an estate at Barrington to found three annual prizes for English declamations, and £1000 to rebuild or alter the combination room, and £180 for plate.
Cooper
Sculpture inscription
Translation

FRANCISCUS HOOPER S.T.P.

Hujusce Collegii, quod unicè amavit, Socius Senior
Post multos annos in eodem feliciter completos
Hic tandem voluit requiescere,
Donec de Morte ipsâ victor Resurrexerit.

natus Jan. 10. 1694 obiit Maij 18. 1763

N. Read int et sct
Francis Hooper, D.D., was a Senior Fellow of the College. Having a unique affection for the College, he requested that he should rest here, where he had spent many happy years, until he should rise again, victor over death itself. He was born on 10th January 1694 and died on 18th May 1763.
Francis Hooper

Bust by N. Read located on the north wall of the Ante-Chapel.