John Wordsworth
---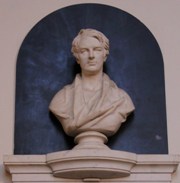 1805-1839. Classical scholar; priest. Son of Bishop Christopher Wordsworth, Master, and nephew of the poet William Wordsworth. Fellow; Tutor; Junior Bursar. Holder of the Chancellor's Medal for Heroic English Verse.

John Wordsworth was born at Lambeth and educated at Winchester College before coming to Trinity; here he was elected to a scholarship and won the Porson prize in 1826. Although distaste for mathematics disqualified him from classical honours when he proceeded BA in 1828, he secured election to a fellowship at Trinity in 1830, proceeding MA in 1831. Between 1830 and 1833 he resided in Cambridge, and contributed a notable review of James Scholefeld's Aeschylus to the first number of the Philological Museum. In 1833 he made a long visit, by way of France and Switzerland, to Italy, where he collated the Medicean manuscript of Aeschylus at Florence with a view to a new edition. Some of this work was used by John Conington in his edition of the Choëphoroe (1857). On returning to Cambridge he took up the duties of an assistant tutor at Trinity, giving lectures that were noted for their diligence and erudition. He also began work on an edition of the correspondence of Richard Bentley correspondence which was later completed by his brother Christopher, and made large collections for a classical dictionary.

In 1837 Wordsworth was ordained deacon and priest by the bishop of Ely, but his health began to fail, and he was obliged to resign his lectureship and to withdraw as a candidate for the headmastership of King Edward's School, Birmingham. He remained in Cambridge, where he died, unmarried, on 31 December 1839; he was buried on 6 January 1840 in the antechapel of Trinity, where a monument was erected to his memory by subscription, with a bust executed by Weekes under Chantrey's supervision.

DNB
Tombstone inscription
Translation

H S E IOANNES WORDSWORTH A M COLL SS TRIN SOC

CHRISTOPHORI WORDSWORTH S T P COLL MAG FIL NAT MAX GVLIELMI WORDSWORTH MAGNI POETAE NEPOS
CVM BENTLEIO ILLO PORSONO DOBREO
VT VITAE ET SEPVLTVRAE LOCO
ITA STVDIORUM SIMILITVDINE CONIVNCTVS ERVDITIONEM SIBI MAGNO LABORE
COMPARAVIT ADCVRATISSVMAM
QVAM EGREGIE COMMENDABANT
FORMA VVLTVS INCESSVS SERMO
OMNES COMPOSITI
INDOLIS SVAVITAS CHRISTIANA HVMILITAS AD SENTIENDOS TENERI ANIMI ADFECTVS PROPENSVS IN MONSTRANDIS VERECVNDISSVMVS ALIORVM AEQVVS AESTVMATOR SEVERVS SVI
DIGNVS LAVDARI NON CVPIDVS
LATERE QVVM VELLET COEPIT LATENDO CONSPICI

HAVE FILI FRATER AMICE DVLCISSVME
IN IPSO AETATIS FLORE NOBIS EREPTE
NOS PATER FRATRES SODALES
TE PIO DESIDERIO PROSEQVENTES
SEMPER REMINISCIMVR TVI
NON SINE LACRVMIS

NATVS KAL IVL MDCCCV
OB PRID KAL IAN MDCCCXL

EFFIGIEM E MARMORE AMICI MOERENTES P C

Here is buried John Wordsworth, M.A., Fellow of the College; eldest son of Christopher Wordsworth, D.D., Master; and nephew of the great poet William Wordsworth. His name is joined with those of the great Bentley, Porson and Dobree, not only by the place of his life and burial, but also on account of the similarity of his studies to theirs. Through hard work he acquired an immensely detailed store of learning which was made attractive by his combination of unruffled carriage, countenance, gait and speech and his natural charm and Christian humility. He was prone to feel the emotions characteristic of a sensitive nature, though he was very restrained in showing them. A fair critic of others and a severe critic of himself, he deserved yet did not wish for praise: his self-effacement attracted the attention he sought to avoid.

We salute you, our son, brother and dearest friend, snatched from us in the very flower of your age. We, father, brothers, and companions, escorting your funeral with a loving sense of loss, never remember you without tears.

John Wordsworth was born on 1st July 1805 and died on 31st December 1839.

His grieving friends supervised the erection of his bust in marble.
John Wordsworth

Bust by Weekes located on the north wall of the Ante-Chapel.
Tomb in the Ante-Chapel.
| | | |
| --- | --- | --- |
| PREVIOUS SCULPTURE | | NEXT SCULPTURE |