Isaac Barrow
---
1630-77. Master; Professor of Mathematics,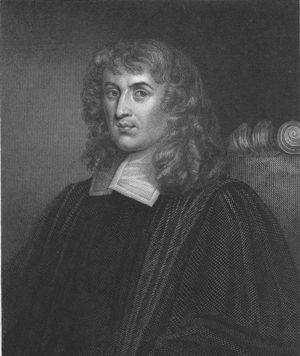 Theologian, teacher of Newton.
Isaac Barrow distinguished himself in Classics, Mathematics and Divinity. He was appointed Regius Professor of Greek three years before becoming the first Lucasian professor of Mathematics – an illustration of the way the elements of the quadrivium were closely connected in the seventeenth century. Best known for his discovery of the fundamental theorem of calculus, Barrow resigned the Lucasian chair in favour of his pupil Isaac Newton, and devoted the rest of his life to theology – writing and preaching – and to being the Master of Trinity who commissioned the Wren Library.
The statue of Barrow was commissioned in preference to one of Richard Bentley, who was a more influential but also highly controversial Master. The statue, by Matthew Noble (1853), was given by William Whewell and presented to the College by the Marquis of Lansdowne in 1858.
Memorial inscription
Translation

ISAACUS BARROW

VIR SUO TEMPORI
PIETATIS PROBITATIS FIDEI ERUDITIONIS
MODESTIÆ SUAVITATIS EXEMPLUM:
PROFESSOR MATHESEOS IN HAC ACADEMIÂ
ET EO QUIDEM NOMINE NEWTONI ANTECESSOR
SED MELIORE TITULO OB PRÆCLARA SUA
INVENTA MATHEMATICA;
THEOLOGUS ARGUMENTORUM GRAVITATE
ET SERMONIS COPIÂ PRÆCELLENS;
COLLEGIUM HOC PRÆFECTUS ILLUSTRAVIT
JACTIS BIBLIOTHECÆ FUNDAMENTIS AUXIT.
OBIIT IV. DIE MAII ANNO DOM. M.DC.LXXVII
ÆTATIS SUÆ XLVII

MONUMENTUM HOC FACIENDUM CURAVIT
HENRICUS MARCHIO DE LANSDOWNE
AMORIS ERGÔ IN COLLEGIUM SUUM

M. NOBLE SC. 1853

Isaac Barrow was for his contemporaries a model of piety, upright behaviour, faith, learning, modesty and charm. He was Professor of Mathematics in this University and in that post preceded Newton; but he had a better title to that position in respect of his distinguished mathematical discoveries. He was a theologian outstanding for the weight of his arguments and the abundance of his style. As Master he added lustre to the College and enriched it by laying the foundations for the Library. He died on 4th May 1677 at the age of forty-six. Henry, Marquis of Lansdowne, supervised the erection of this monument as a token of his love for his College.

Carved by Matthew Noble in 1853.
Isaac Barrow

Statue by Matthew Noble located in the Ante-Chapel.
Inscription text by William Whewell.