Sir Francis Bacon
---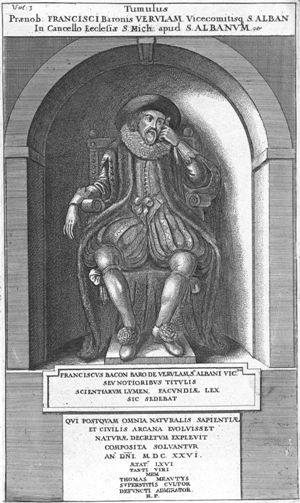 "The Father of scientific methodology"; became Attorney General and Lord Chancellor to James I.
Francis Bacon, the 1st Viscount St Alban, was known as "the father of empiricism" and first modern philosopher and theorist. His father was Sir Nicholas Bacon, Queen Elizabeth's Lord Keeper of the Great Seal. Francis first met the Queen while an undergraduate at Trinity; she was impressed by his precocious intellect, and was accustomed to calling him "the young Lord Keeper".
Thomas Jefferson wrote: "Bacon, Locke and Newton… I consider them as the three greatest men that have ever lived, without any exception, and as having laid the foundation of those superstructures which have been raised in the Physical and Moral sciences". (John Locke studied at Trinity's sister college, Christ Church, Oxford.)
According to Aubrey's Brief Lives, Bacon died of pneumonia contracted from stuffing a fowl with snow, in an experiment to discover whether meat could be preserved by freezing.
Baon lived at Old Gorhambury House, near St Albans, Hertfordshire. The inscription on Weekes's statue is as on the original statue of Bacon in St Michael's, Gorhambury, of which Whewell had this copy made; the text is by Sir Henry Wotton. The sculpture is very fine, realistically depicting the fur and lace of his clothes; in places the marble is thin enough to be translucent.
Memorial inscription
Translation

FRANCISCVS BACON

BARO DE VERVLAM STI ALBANI VICECOMES SEV NOTIORIBVS TITVLIS SCIENTIARVM LVMEN FACVNDIÆ LEX SIC SEDEBAT.

QVI POSTQVAM OMNIA NATVRALIS SAPIENTIÆ
ET CIVILIS ARCANA EVOLVISSET
NATVRÆ DECRETVM EXPLEVIT
COMPOSITA SOLVANTVR
ANO DNI M.DC.XXVI ÆTATS LXVI.

FRANCISCUS baro de Verulamio, vicecomes Sancti Albani percelebri Collegio SANCTÆ ET INDIVIDUÆ TRINITATIS in Cantabrigia salutem.

Res omnes earumque progressus initiis suis debentur. Itaque cum initia scientiarum e fontibus vestris hauserim, incrementa ipsarum vobis rependenda existimavi. Spero itidem fore, ut hæc nostra apud vos, tanquam in solo nativo, felicius succrescant. Quamobrem et vos hortor, ut salva animi modestia, et erga veteres reverentia, ipsi quoque scientiarum augmentis non desitis: verum ut post volumina sacra verbi Dei et Scripturarum, secundo loco volumen illud magnum operum Dei et creaturarum, strenue et præ omnibus libris (qui pro commentariis tantum haberi debent) evolvatis. Valete.

POSVIT W. WHEWELL COLLEGII HVJVS S.S. TRINITATIS MAGISTER. A.D.M.DCCC.XLV.

H. WEEKES. SC. 1845


Francis Bacon, first Baron Verulam, and Viscount St Albans, better known as the Light of Knowledge and Law of Eloquence, used to sit thus.

In the year of our Lord 1626, in the sixty-sixth year of his age, after he had unravelled every secret of the natural world and of the world of man, he fulfilled the decree of nature that 'whatsoever things have been joined together must be sundered'.

Letter of Francis, Baron Verulam, and Viscount St Albans, to the famous College of the Holy and Undivided Trinity, Cambridge: 'All things owe their existence and their progress to their beginnings; and, having drunk the first sips of knowledge from your springs, I feel that I should repay to you their increase. I hope that my studies will flourish with you in a similar way, since Trinity is their native soil. Wherefore I urge you, while retaining your modesty and res-pect for the ancients, not to cease from the furtherance of science as well; and to study diligently first the sacred volumes of the word of God and the Scriptures, and next to them the great volume of the works of God and his creation; all other books should be held to be mere aids to understanding these. Farewell.'

William Whewell, Master of Trinity College, presented [this statue] in 1845.

Henry Weekes carved it in 1845.
Francis Bacon

Statue by Henry Weekes located in the Ante-Chapel.
Inscription text by Sir Henry Wotton.