Alfred, Lord Tennyson
---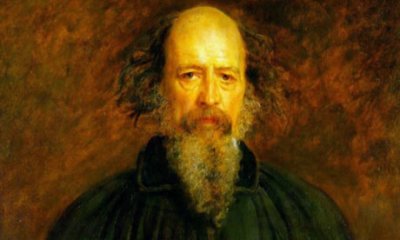 1809-92. Poet of world renown. As a student at Trinity he won the Chancellor's Medal for a poem, but left Cambridge without taking a degree. He succeeded Wordsworth as Poet Laureate and held the position from 1850 until his death - far longer than anyone before or since.
In the bas-relief of the statue a pipe bowl lies half-hidden among the laurel wreaths. It was put there by a secret conspiracy between the sculptor Thornycroft and the donor Harry Yates Thompson, a life-long friend of the then Master Montagu Butler, who was well aware of the Master's dislike of smoking.
The much-quoted Tennyson was the author of The Charge of the Light Brigade, Crossing the Bar, The Lady of Shalott (see picture below), and In Memoriam, which he wrote to commemorate his friend Arthur Hallam, another Trinity poet, and which contains the immortal lines "'Tis better to have loved and lost / Than never to have loved at all." Verse 87 is a nostalgic sketch of life at Trinity:
I passed beside the reverend walls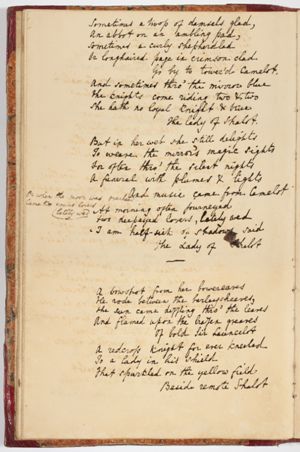 In which of old I wore the gown;
I roved at random thro' the town,
And saw the tumult of the halls;
And heard once more in college fanes
The storm their high-built organs make,
And thunder-music, rolling, shake
The prophet blazon'd on the panes;
And caught once more the distant shout,
The measured pulse of racing oars
Among the willows; paced the shores
And many a bridge, and all about
The same gray flats again, and felt
The same, but not the same; and last
Up that long walk of limes I passed
To see the rooms in which he dwelt.
Another name was on the door:
I linger'd; all within was noise
Of songs, and clapping hands, and boys
That crash'd the glass and beat the floor;
Where once we held debate, a band
Of youthful friends, on mind and art,
And labour, and the changing mart,
And all the framework of the land…
Memorial inscription
Translation

TENNYSON

AUGUST 6. 1809 OCTOBER 6. 1892

HAMO THORNYCROFT, RA. SC. 1909

POSUERUNT HENRICUS YATES THOMPSON COLLEGII SS. TRINITATIS OLIM DISCIPULUS ET UXOR EIUS
DIE XIXMO OCT. A.S. MDCCCCIX

Alfred Aubrey, Lord Tennyson,
6th August 1809 - 6th October 1892.

Hamo Thornycroft, R.A., carved this in 1909.

Henry Yates Thompson, former student of Trinity College, and his wife placed this statue here on 19th October 1909.
Alfred, Lord Tennyson

Statue by Thornycroft located in the Ante-Chapel.