William Whewell
---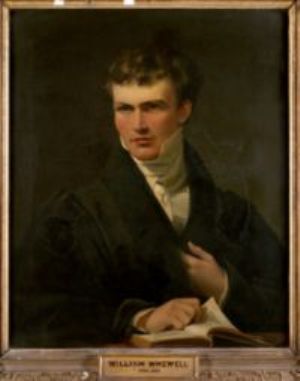 1794-1866. Master; scientist, philosopher, theologian, historian of science. The statue by Woolner was executed for the College in 1872.
Whewell spent his whole adult life at Trinity, coming up as an Exhibitioner in 1812, and dying as Master in 1866, after falling from a horse. He was Professor of Mineralogy, and subsequently of Philosophy (then called "moral theology and casuistical divinity"), and endowed a chair of International Law; he was also interested in architecture and, having presciently bought the land, he signed the contract for, and contributed financially to, the Gothic courts east of Trinity Street named in his honour but built in "the worst period of Victorian architecture".
He is mainly remembered for his encouragement of the study of the moral and natural science; he also coined many scientific terms, including the word scientist. As well as being a polymath with a prodigious memory, Whewell was as powerful physically as his statue suggests. "It is a well-authenticated Trinity tradition that Whewell, when Master, jumped up the Hall steps at one leap, a feat that is very seldom accomplished even by youthful athletes."
Memorial inscription
Translation

IN MEMORIAM

GUILELMI WHEWELL S.T.P. R.S.S.

VIRI INGENIO SAPIENTIA ANIMI ROBORE ET MAGNITUDINE
INTER ÆQUALES CONSPICUI
SCIENTIARUM QUOTQUOT FUERUNT INTERPRETIS DISERTI VERITATIS INDAGATORIS STRENUI VINDICIS IMPIGRI
MAGISTRI DENIQUE OPTIMI

HANC STATUAM PONENDAM CURAVIT
BENEFICIORUM MEMOR COLLEGIUM

OBIIT A.S. MDCCCLXVI.
ÆTATIS LXXII
PRAEFECTURAE XXV.

T. WOOLNER SC. LONDON 1872

In memory of William Whewell, D.D., F.R.S., a man remarkable among the men of his age for his genius and wisdom, and for the power and breadth of his intellect. He was an eloquent expounder of all branches of science and an active seeker-out and untiring defender of the truth; he was, moreover, an excellent Master.

The College had this statue erected in remembrance of his benefactions.

He died in 1866 at the age of seventy-one, in the twenty-fifth year of his Mastership.

Carved by Thomas Woolner, London 1872.
William Whewell

Statue by Thomas Woolner located in the Ante-Chapel.
Memorial text by William Hepworth Thompson.
Tomb in the Ante-Chapel.


| | | |
| --- | --- | --- |
| PREVIOUS STATUE | | NEXT STATUE |