Sir Arthur Stanley Eddington, FRS
---
1882-1944. Plumian Professor of Astronomy.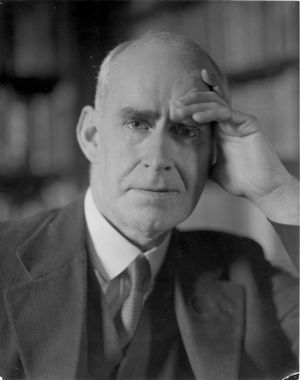 Sir Arthur Stanley Eddington, OM, FRS, was an astrophysicist and philosopher of science, and a popularizer of science. The Eddington limit, the natural limit to the luminosity of stars, or the radiation generated by accretion onto a compact object, is named in his honour.
He is famous for his work regarding the theory of relativity. Eddington wrote a number of articles which announced and explained Einstein's theory of general relativity to the English-speaking world. He also conducted an expedition to observe the solar eclipse of 29 May 1919 which provided one of the earliest confirmations of relativity, and he became known for his popular expositions and interpretations of the theory.
Eddington wrote a parody of The Rubaiyat of Omar Khayyam recounting his 1919 solar eclipse experiment, including the verse:
Oh leave the Wise our measures to collate
One thing at least is certain, LIGHT has WEIGHT
One thing is certain, and the rest debate -
Light-rays, when near the Sun, DO NOT GO STRAIGHT.
He was born in Kendal, and is buried at the Parish of the Ascension burial ground in Cambridge.
Memorial inscription
Translation

ARTVRVS STANLEIVS EDDINGTON O.M. EQV.AVR.

COLLEGII NOSTRI PER XXXVII ANNOS SOCIVS
PER XXXI ASTRONOMIAE PROFESSOR PLVMIANVS
MVLTA DE ASTRORVM
MVLTA DE TEMPORIS SPATIIQVE PROPOSVIT
IDEM LIBRIS TAM FACETE QVAM DILVCIDE SCRIPTIS REPERTA SVA ATQVE ALIENA
VEL PARVM DOCTIS INTERPRETATVS EST A PLVRIMIS QVAE VBIQVE SVNT ACADEMIIS HONORATVS SIMPLICI VITAE ET MORVM MODESTIA SE GEREBAT VT QVI VNVS ESSET EX SOCIETATE DICTA AMICORVM
NATVS A.D.MDCCCLXXXII OBIIT A.D.MCMXLIV

Sir Arthur Stanley Eddington, O.M., was a Fellow of the College for thirty-seven years and Plumian Professor of Astronomy for thirty-one years. He advanced many theories about the stars and many about the nature of space and time. In books written with as much wit as clarity he explained his own and others' theories even to those who had scarcely any knowledge of the subject. He was honoured by very many universities all around the world. His life and behaviour were simple and modest, as befitted a member of the Society of Friends. He was born in 1882 and died in 1944.
Arthur Stanley Eddington

Brass located on the north wall of the Ante-Chapel.
Memorial text by Francis Henry Sandbach.

Click on the thumbnail for a larger image.