Richard Appleton
---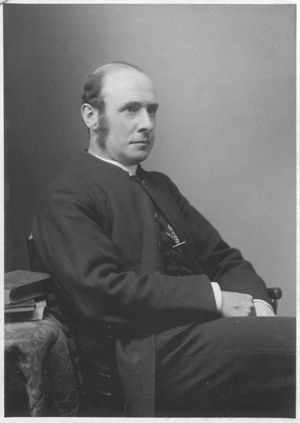 1849-1909. Lecturer in Mathematics & Theology. Governor of Christ's Hospital School. Warden of Trinity College Mission to Camberwell; Honorary Canon of Durham; Master of Selwyn College.
Appleton was born in Liverpool, the son of another Revd Richard Appleton and the grandson, on his mother's side, of the late Canon J.P. Eden, Rector of Sedgefield, Durham.
He was educated at Christ's Hospital and Trinity, where he was Sixth Wrangler and won the Chancellor's Medal. He was awarded a second class degree in the Classical tripos.

He became Examining Chaplain to three successive Bishops of Durham: Lightfoot (1880-90); Westcott (1890-1901); and Moule (from 1901). He was Cambridge Preacher at the Chapel Royal, Whitehall, 1882-84; Junior Dean of Trinity College, 1882-84; Senior Dean, 1884-91; Tutor, 1885-94. He became Warden of the Trinity College Mission and Vicar of St George's, Camberwell, from 1894 to 1903; then he was Vicar of Ware, 1904-07, and simultaneously Rural Dean of Ware. Finally he became Master of Selwyn College, Cambridge, for the last two years of his life.




Memorial inscription
Translation

IN MEMORIAM

RICARDI APPLETON A.M.

APVD NOS SOCII DECANI TVTORIS
APVD LONDINENSES IN PAROCHIA DE S.GEORGIO CAMBERWELL TAMQVAM LEGATI NOSTRI
PER ANNOS IX DILIGENTISSIMI PASTORIS
APVD WARE OPPIDVM IN COM. HERTFORD
PER ANNOS III VICARII PERFIDELIS
MOX POSTQVAM HVC REDIIT COLLEGII SELWYNENSIS E MAGISTERIO PRAEMATVRE EREPTI
HANC TABVLAM AMORIS LVCTVS LABORVM COMMVNIVM MONVMENTVM D.D.D. VXOR SUPERSTES
NATVS EST XVII FEBR. A.S.MDCCCXLIX
OBIIT 1.MAR. A.S.MDCCCCIX




In memory of Richard Appleton, M.A., who was Fellow, Dean and Tutor of the College. For nine years he was a devoted pastor and 'ambassador' for the College at St George's Church, Camberwell, and was a conscientious vicar at Ware in Hertfordshire for three years. He then returned to Cambridge as Master of Selwyn College, and died untimely in office. His widow gave and dedicated this brass as a memorial of her love, her grief, and the work which she shared with him. He was born on 17th February 1849 and died on 1st March 1909.
Richard Appleton

Brass located on the south wall of the Ante-Chapel.
Inscription text by Henry Montagu Butler.

Click on the thumbnail for a larger image.
| | | |
| --- | --- | --- |
| PREVIOUS BRASS | | NEXT BRASS |