John Willis Clark
---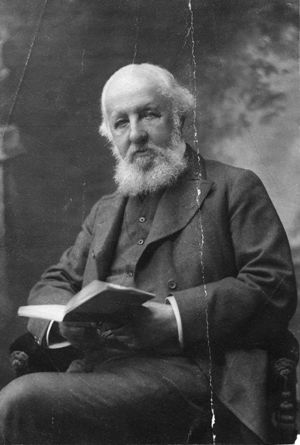 1833-1910. Antiquarian and administrator; co-author (with his uncle, Professor Robert Willis) of the Architectural History of the University of Cambridge, from which much of the information on this website was taken.
Clark was born into a Cambridge academic family. Educated at Eton and Trinity, he spent his life at the university, serving as Fellow of Trinity, Superintendent of the Museum of Zoology, and Registrary of the University. He was also Secretary of the Cambridge Antiquarian Society.
On the death in 1875 of his uncle Professor Robert Willis, the unfinished manuscript of his Architectural History of the University and Colleges of Cambridge was bequeathed to Clark. The completion of this monumental work entailed a vast amount of research among college records and a close study of existing buildings. A very large proportion of the book was rewritten, and all Willis's conclusions verified. The book finally appeared in four volumes in 1886, and must rank as Clark's most considerable achievement. Besides the history of the Cambridge buildings, it includes an architectural history of Eton College, and also a number of essays on the constituent parts of a college (chapel, hall, library, and so on) and an admirable series of plans, showing the development of each collegiate site. It was reprinted in 1988 but without the volume of plans.
He made numerous contributions to the Dictionary of National Biography, as well as editing the letters of Adam Sedgwick and writing on Cambridge institutions and librarianship.
Memorial inscription
Translation

IOHANNES WILLIS CLARK A.M.

HUIUS COLLEGII DISCIPULUS DEIN SOCIUS NATUS A.D.MODCCCOXXXIIIO
ALTERIUS E MUSAEIS ZOOLOGICIS DIU PRAEFECTUS ACADEMIAE PER ANNOS XIX REGISTRARIUS. AEDIFICIORUM CANTABRIGIENSIUM ET REI BIBLIOTHECARIAE INDAGATOR SAGACISSIMUS ET COAETANEIS ET IUVENTUTI CARUS OBIIT A.D. MODCCCCOXO.

Born in 1833, John Willis Clark, M.A., was an undergraduate and then Fellow of the College. For a long time he was Superintendent of the Museum of Zoology, and was for twenty years Registrary of the University. He was a very learned researcher into the buildings of Cambridge and an expert librarian. Loved by old and young alike, he died in 1910.
John Willis Clark

Brass located on the south wall of the Ante-Chapel.
Inscription text by M.R. James.

Click on the thumbnail for a larger image.