Sir Alan Lloyd Hodgkin, OM
---
1914-98. Master; Physiologist and Biophysicist; Nobel Laureate.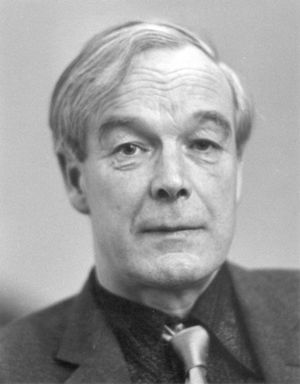 Hodgkin was born in Banbury and educated at Gresham's School and Trinity, where he became a Fellow and in due course Master from 1978 to 1984.
During the Second World War, he volunteered to work on Aviation Medicine at Farnborough and was subsequently transferred to the Telecommunications Research Establishment where he worked on the development of centimetric radar, including the design of the Village Inn AGLT airborne gun-laying system. Earlier, in March 1941, Hodgkin had flown on the test flight of a Bristol Blenheim fitted with the first airborne centimetric radar system.
With Andrew Huxley Hodgkin worked on experimental measurements and developed an action potential theory representing one of the earliest applications of a technique of electrophysiology, known as the "voltage clamp". The second critical element of their research was the use of the giant axon of Atlantic squid (Loligo vulgaris), which enabled them to record ionic currents as they would not have been able to do in almost any other neuron, such cells being too small to study using the techniques of the time. The experiments started at the University of Cambridge, beginning in 1935 with frog sciatic nerve, and then Hodgkin and Huxley continued their work using squid giant axons at the Marine Biological Association Laboratory in Plymouth. In 1939, reporting work done in Plymouth, they published a short paper in the journal Nature announcing their achievement of recording action potentials from inside a nerve fibre. Research was interrupted by World War II but after resuming their experimental work in Plymouth, the pair published their theory in 1952.
In 1963, with Huxley, he won the Nobel Prize in Physiology or Medicine for their work on the basis of nerve "action potentials," the electrical impulses which enable the activity of an organism to be coordinated by a central nervous system. Hodgkin and Huxley shared the prize that year with John Carew Eccles, who was cited for his research on synapses. Hodgkin and Huxley's findings led them to hypothesize ion channels, which were confirmed only decades later. Confirmation of ion channels came with the development of the patch clamp leading to a Nobel prize in 1991 for Erwin Neher and Bert Sakmann.
Sir Alan died in 1998 at Cambridge.
Memorial inscription
Translation

ALAN LLOYD HODGKIN O.M. EQ. AVR.

HVIVS COLLEGII SOCIVS ET POSTEA MAGISTER
REGIAE OLIM SOCIETATIS PRAESES
APVD SVECOS PRAEMIO ORNATVS NOBELIANO
APVD SVOS BIOPHYSICAE PROFESSOR DESIGNATVS
EXIMIO INGENII ACVMINE INTER PARES PRIMVS
IMPVLSVS ET VIM INTIMAM NERVORVM PATEFECIT
NECNON OCVLORVM ACIEI LVMEN SVVM ATTVLIT
IDEM PATRIAE BELLO LABORANTI SVCCVRRIT
AERA SIMVL ET MARIA RADIIS PERLVSTRANDO
NATVS A.S. MCMXIV MORTEM OBIIT A.S. MCMXCVIII

Sir Alan Lloyd Hodgkin, O.M., became a Fellow and later Master of this College, having previously been President of the Royal Society. In Sweden he was awarded the Nobel Prize, and at home was appointed Professor of Biophysics. In the extraordinary acuity of his intelligence he was first among equals. He discovered the impulses and force of the nerves, and also shed light on the faculty of sight. He came to Britain's aid in war-time through his work on both airborne and maritime radar. He was born in 1914 and died in 1998.
Alan Lloyd Hodgkin

Brass located on the south wall of the Ante-Chapel.
Inscription text by E.W. Handley.

Click on the thumbnail for a larger image.