Henry Jackson
---
1839-1921. Vice-Master; Regius Professor of Greek.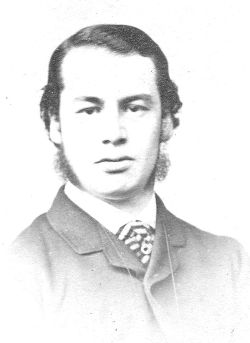 Born in Sheffield, the son of an eminent Sheffield surgeon of the same name, Henry Jackson, OM, attended Sheffield Collegiate School and Cheltenham College before entering Trinity in 1858; he graduated in 1862 as third Classic. He joined the Cambridge Apostles in 1863. He became a Fellow of Trinity in 1864, and Assistant Tutor in 1866, Praelector in Ancient Philosophy in 1875 and Vice-Master in 1914. He lived within the walls of Trinity for over fifty years.
Together with Henry Sidgwick and others he essentially established the Cambridge university's supervisory system by introducing it in the classical side at Trinity. Other disciplines and other colleges soon followed suit. He was interested in university reform including the reform of Triposes (including the Classical Tripos), the admission of women for university education, the abolition of tests, and for the general reform of university and college statutes, and voted for women's degrees. He became Regius Professor of Greek, a post to which he was appointed in 1906, succeeding Sir Richard Claverhouse Jebb; after 1879 he became one of the editors of the Journal of Philology until his death.
Jackson's area of study was Greek philosophy, but he did not publish greatly - editing book 5 of Aristotle's Nicomachean Ethics and writing a series of pieces on Plato's later theory of ideas in the Journal of Philology. His important work was in translating and commenting upon Aristotle's Ethics. His favourite author was Thackeray and, long before his death it was said he had read Thackeray's Henry Esmond forty times.
His greater achievement was in his lectures and his ability to train the next generation of classical scholars, his more eminent students included Francis Cornford. From 1882 to 1892 he sat on the Council of the Senate of the University of Cambridge, and was an active member of a number of the university boards. He was a founder member of Cambridge University Liberal Club in 1886, ultimately serving as its President from 1897 to 1899. He died in Bournemouth and is buried at the Parish of the Ascension Burial Ground in Cambridge.
There is an article on Jackson in Proceedings of the Cambridge Philological Society suppl. vol. 28 (Cambridge 2005), 87-110. It is in a special volume entitled The Owl of Minerva: The Cambridge Praelections of 1906. A book about him was written by R. Parry: Henry Jackson, O M, Vice-Master of Trinity College and Regius Professor of Greek in the University of Cambridge. (Cambridge, 1926).
Memorial inscription
Translation

M.S.

HENRICI JACKSON LITT.D. O.M.

huius collegii socii praelectoris vicemagistri
in academia linguae Graecae professoris regii.
Huius uiri, in quo habitare uidebatur genius ipse collegii,
laudator sit Lucretius;
haec enim domus tot taliumque filiorum genetrix
nil tamen hoc habuisse uiro praclarius in se
nec sanctum magis et mirum carumque uidetur.
Natus est IV id. mart. MDCCCXXXIX
Obiit VII Kal. oct. MCMXXI




Sacred to the memory of Henry Jackson, Litt.D., O.M., who was Fellow, Praelector and Vice-Master of the College, and Regius Professor of Greek in the University. Let Lucretius sing the praises of this man, whom the very spirit of the College seemed to inhabit; for Trinity, which has fostered so many remarkable sons, 'seems to have held within its walls no man more famous, more venerable, more wonderful or more beloved'. [Lucretius, De rerum natura Book 1, 730-731] He was born on 12th March 1839 and died on 25th September 1921.
Henry Jackson

Brass located on the north wall of the Ante-Chapel.
Inscription text by James Duff Duff.

Click on the thumbnail for a larger image.