George Sidney Roberts Kitson Clark
---
1900-75.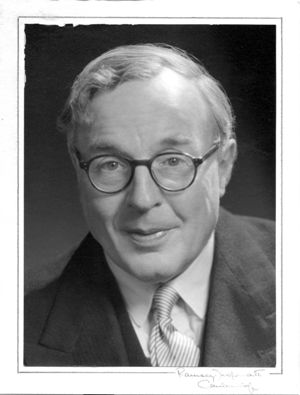 Historian specialising in the nineteenth century; Reader in Constitutional History.
He is known as a revisionist historian of the Repeal of the Corn Laws. G.D.H. Cole identified a "Kitson Clark" school of historians revising the assessment of the Anti-Corn Law League and the Chartists.
He was educated at Shrewsbury School and Trinity. He lived the life of a bachelor don as Fellow of Trinity, from 1922 to his death in 1975. He was Reader in Constitutional History from 1954 to 1967. He was a visiting lecturer at seven universities.
Memorial inscription
Translation

GEORGE SIDNEY ROBERTS KITSON CLARK

COLLEGII SOCIVS LECTOR TVTOR
SCRIBENDO ET DISCIPVLOS INSTIGANDO
HISTORIAE SAECVLI VNDEVICESIMI PROFVIT
SERMONE ABVNDANTI IOCA ET SERIA MISCEBAT
RECTI TENAX VERITATIS CVPIDVS
SINCERA ERGA DEVM PIETATE SVSTENTABATVR
DECESSIT A.S.MCMLXXV AETATIS SVAE LXXVI



George Sidney Roberts Kitson Clark was a Fellow, Lecturer and Tutor of the College. He advanced the study of the history of the nineteenth century by his writings and by his encouragement of his pupils. He was an untiring talker, mixing humour and gravity in his conversation. He cleaved to what is right and cherished the truth, sustained by simple godly piety. He died in 1975 at the age of seventy-five.
George Sidney Roberts Kitson Clark

Brass located on the north wall of the Ante-Chapel.
Inscription text by Francis Henry Sandbach.

Click on the thumbnail for a larger image.