Alexander Francis Kirkpatrick
---
1850-1940.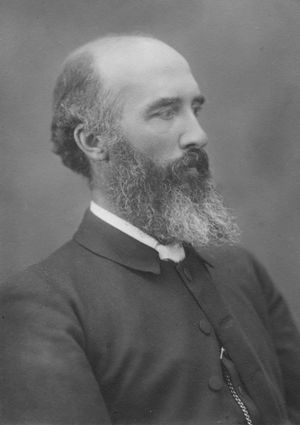 D.D.; Junior Dean and Proctor. Regius Professor of Hebrew; Lady Margaret's Professor of Divinity; Dean of Ely.
Kirkpatrick was Regius Professor of Hebrew (1882-1903) and the third Master of Selwyn College (1898-1907), where he was succeeded by Richard Appleton.
He was educated at Haileybury and Trinity. He also served as Canon of Ely (1882-1903), Dean of Ely (1906-36), Examining Chaplain to the Bishop of Winchester (1895-1903), and General Editor for Old Testament and Apocrypha for the Cambridge Bible for Schools and Colleges (1892-1929).
He published editions of the Book of Psalms and of the First Book of Samuel.
Memorial inscription
Translation

ALEXANDER FRANCISCVS KIRKPATRICK S.T.P.

huius collegii discipulus, per LXVIII annos socius
interea lector, decanus, semper amicus;
in academia primum ling. Hebraicae regius
mox ex fund: dom: Margaretae theologiae Professor
postea hosp: de Selwyn magister
denique eccl: cath:. Eliensis praepositus
Prophetarum eruditus interpres
ita doctrinam spiritum aspectum referebat
ut unus ex illo laudabili numero ipse uideretur.
Post uitam honestissime peractam
nonagenarius decessit. a.d. kal: Febr: MDCCCCXL.

A Scholar and life-long lover of the College, Alexander Francis Kirkpatrick, D.D., was a Fellow for sixty-eight years and for some time also Lecturer and Dean. He was Regius Professor of Hebrew in the University, and later Lady Margaret Professor of Divinity. He was then Master of Selwyn College and finally Dean of Ely Cathedral. An erudite commentator on the Prophets, he took after them in learning, spirit and appearance to such an extent that he himself seemed to be one of that celebrated company. After living a life of absolute integrity he died at the age of ninety on 31st January 1940.
Alexander Francis Kirkpatrick

Brass located on the south wall of the Ante-Chapel.
Memorial text by Francis Henry Sandbach.

Click on the thumbnail for a larger image.