Charles William King
---
1818-88. Senior Fellow; gemmologist.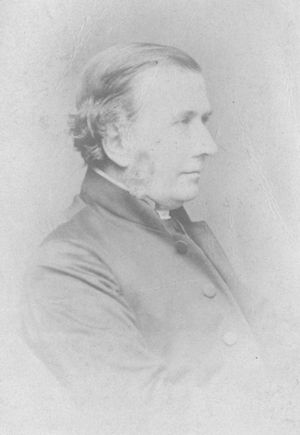 King was born in Monmouthshire and educated at a private school in Bristol before coming to Trinity as a sizar, in October 1836; he became a Scholar in 1839, and graduated the following year as sixth in the first class of the classical tripos. He was elected a Fellow in 1842 and ordained Deacon in 1845. He was granted permission by the Master (W.H. Thompson) to travel abroad and went to Italy, where he resided at Rome and Florence (1845–50). He studied Italian language and literature, and collected antique gems, which he purchased at moderate prices. King later increased his collection by buying gems from Eastwood, a London dealer, and also at auction in London, where several important collections, including the Mertens-Schaafhausen (Praun), the Hertz, and the Uzielli were put on the market. By 1877 he owned 331 engraved stones, more than two-thirds of which were Greek and Roman; the remainder consisted of Sasanian and oriental gems and magical ('gnostic') amulets. In 1878, when his eyesight was seriously failing, King sold his collection to John Taylor Johnston, president of the Metropolitan Museum of Art at New York, who gave it to that institution in October 1881. A catalogue was printed in 1890, without alterations, from King's own manuscript of 28 February 1878, with the title The Johnston Collection of Engraved Gems (Metropolitan Museum, New York, handbook no. 9), which was replaced in the twentieth century by Gisela Richter's more scholarly work.

After his return from Italy, King's life was chiefly spent at Trinity, where from 1857 he was Senior Fellow. He was in holy orders, but had no cure. He took no part in the educational life of the College, but devoted himself to writing books about glyptics, the most widely valued at the time being his two-volume Antique Gems and Rings (1872) and a shorter Handbook of Engraved Gems (1866; 2nd edn, 1885). He also produced a study of Graeco-Egyptian amulets in The Gnostics and their Remains, Ancient and Medieval (1864; 2nd edn, 1887). However, despite his sensitivity to the art of gem-engraving, all his work is marred by a dilettante approach, more typical of the neo-classical age than of later nineteenth-century scholarship. W. Aldis Wright wrote that his works 'may appear to be wanting in familiarity with what is called the literature of the subjects of which they treat' (The Athenaeum, 7 April 1888, 441); indeed, he knew little of archaeology in general, although he was widely consulted by contemporaries about ancient gemstones. He was capable of ungenerous remarks about fellow collectors such as Bram Hertz, whose collection surpassed his own in size and quality (Antique Gems and Rings, 282–3, 461). His writings stimulated an interest in glyptics at the time and until the second half of the twentieth century remained the only works in English on a subject in which considerable advances were made abroad, especially by Adolph Furtwängler in Germany, whose Die antiken Gemmen (Leipzig, 1900), with its critical scholarship and fine photographs, eclipsed the style of writing exemplified by King.
© DNB
Memorial inscription
Translation

CAROLUS GULIELMUS KING

HUIUS COLLEGII E SOCIIS SENIORIBUS IN CAMBRIA ORTUS OBIIT APUD LONDINENSES DIE MENSIS MARTII XXV ANNO SALUTIS MDCCCLXXXVIII
ET IN COEMETERIO IUXTA HIGHGATE SEPULTUS EST
DE LAPIDUM NATURA ET ARTIFICIO PERMULTA EGREGIE SCRIPSIT
VIXIT ANNOS LXIX SIMPLEX LEPIDUS FACUNDUS
SERMONE SCRIPTIS MORIBUS DOMUM QUAM VIVUS INGENIO ILLUSTRAVIT BENEFICIO MORIENS DITAVIT

Charles William King was a Senior Fellow of the College. He was born in Wales and died in London on 25th March 1888; he is buried in Highgate Cemetery. He produced much notable work on the nature and cutting of gems. He lived sixty-nine years. He was a straightforward, witty and eloquent man in his conversation, his writing, and his behaviour. He added lustre to the College by his genius while he was alive, and enriched it by his legacy on his death.
Charles William King

Brass located on the north wall of the Ante-Chapel.
Memorial text by F.J.H. Jenkinson.

Click on the thumbnail for a larger image.