Reginald St John Parry
---
1858-1935. Vice-Master, Doctor of Divinity.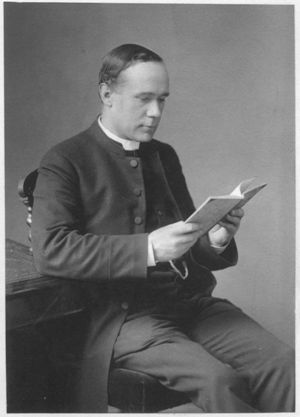 A classicist, clergyman, writer and lecturer, Parry was involved in the 1893 'Spinning-House Case', involving one Miss Daisy Hopkins who was sentenced by the University Proctor to a fortnight's imprisonment in the Spinning-House (workhouse), 'a receptacle for profligate and disorderly women'. She was later brought to the High Court on a writ of habeas corpus, and her release was ordered. Hopkins successfully sued the University for damages.
Amond Parry's books are The Epistle of Paul the Apostle to the Romans, The First Epistle of Paul the Apostle to the Corinthians, and Cambridge Essays on Adult Education. He also co-edited the Cambridge Greek Testament for Schools and Colleges, and wrote a biography of Henry Jackson, another Vice-Master of Trinity.

Memorial inscription
Translation

REGINALDVS ST JOHN PARRY

COLL. SCTAE ET INDIVID. TRINITATIS DISCIPVLVS, SOCIVS, DECANVS, TVTOR, DENIQVE VICE-MAGISTER, PER LX ANNOS HVIVS DOMVS INCOLA FAMILIARISSIMVS, BONVM SEMPER IN MELIVS REFICERE PARATVS EXTRA MVROS ACADEMIÆ QVOT INTVS ACCEPERAT DONA DIVOLGARE LABORABAT.
INGENIO SENEX SEVERO MIRA IDEM APVD IVNIORES GRATIA, IN NEGOTIIS IMPIGER, SVI PROPOSITI TENAX, IN SEMITA FIDEI INDEFESSVS AMBVLABAT DONEC IN MANSIONEM BEATAM ACCESSIT A.S.MDCCCCXXXVo ÆTAT. SVÆ LXXVII

As Scholar, Fellow, Dean, Tutor and finally Vice-Master of Trinity, Reginald St John Parry was
a well-known inhabitant of the College for sixty years. Always ready to make what was good better, he worked hard to disseminate outside the University the gifts which he had acquired within its walls. As an old man he had a stern manner, but was remarkably popular amongst the young. He was unresting in his labours and held on to his objectives. He never tired of walking in the path of faith until he entered into the abode of bliss, at the age of seventy-six, in 1935.
Reginald St John Parry

Brass located on the south wall of the Ante-Chapel.
Inscription text by John Burnaby / Francis Henry Sandbach.

Click on the thumbnail for a larger image.