Alfred Chilton Pearson, FBA
---
1861-1935.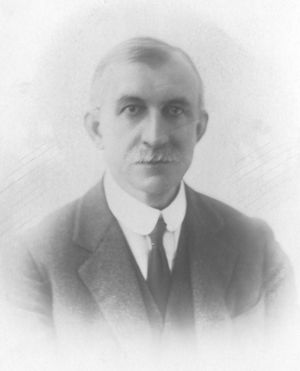 Regius Professor of Greek.
Pearson was educated at Highgate and King's College schools before winning a scholarship to Christ's College, Cambridge where he obtained a double first in Classics. He then read for the bar and practised at Lincoln's Inn for five years.

Next he spent ten years as a school teacher, before entering his late father's London business. He joined the National Liberal Club, and maintained his links with teaching by examining for the Oxford and Cambridge schools examination board.

He began to publish articles and reviews in the Classical Review while practising as a lawyer. His first book was The Fragments of Zeno and Cleanthes, published in 1891 while he was teaching in Bury St Edmunds. All his later books were editions of works of the Greek tragedians, although between 1908 and 1921 he contributed more than twenty articles to Hastings's Encyclopaedia of Religion and Ethics. He began with a series of school editions of Euripides (Helena, 1903; Heraclidae, 1907; Phoenissae, 1909) and with an abridgement (1907) of the Ajax of Sophocles edited by Sir Richard Jebb. Next, at the invitation of the syndics of the Cambridge University Press, he prepared for posthumous publication (1910) the verse translation and incomplete commentary on Aeschylus's Agamemnon left by W.G. Headlam, and also undertook the completion of the editing of the Fragments of Sophocles, a task begun by Jebb and continued by Headlam. Pearson spent several years on this difficult task, and in 1917 produced a masterly edition in three volumes, which established his reputation. The notes to this work ensure its lasting value to scholars.

In 1919 Pearson was elected Gladstone Professor of Greek at Liverpool University, where he had the support of J.P. Postgate, professor of Latin. Pearson feigned surprise at his appointment: 'Rather a ridiculous adventure at my time of life! I did not even know the post was advertised'. But he revitalized the department there and in 1921 succeeded Henry Jackson as Regius Professor of Greek at Cambridge, becoming thereupon a Fellow of Trinity. His chief remaining work was the Sophocles which he added to the Oxford Classical Texts series in 1924. Soon after this his health failed. He resigned his chair in 1928, and lived from 1932 to 1934 at Hunstanton before moving to London, where he died after five years of total incapacity. .

Pearson was an active man, an oar and a cricketer in youth, and a keen golfer and walker in later life. Intensely loyal and generous, he combined deep modesty with strong opinions, carefully formed and not easily shaken. He did, though, resign his National Liberal Club membership and wrote in 1923 that, having ceased to be a Liberal, he expected 'to end as a crusted Tory'. His scholarship was of a very high order, especially on the linguistic and grammatical side. All his books were models in their kind, and his masterpiece, The Fragments of Sophocles, shows a vast range of knowledge at the service of an acute and sober judgement. He was elected an honorary fellow of Christ's College in 1922 and a Fellow of the British Academy in 1924. D.S. Robertson / DNB

Memorial inscription
Translation

ALVREDVS CHILTON PEARSON

natus A.S. MDCCCLXI, litterarum graecarum studia,
in collegio Christi instaurata, advocatus ludi
magister mercator indefesso ardore prosecutus,
sexagesimo aetatis anno linguae graecae professor
regius et huius collegii socius electus, vir gravis
comis liberalis, Porsonianae doctrinae exemplar,
opera quam Sophocli diu impenderat feliciter
perfecta ex diuturna valetudine requievit A.S.
MDCCCCXXXV aetatis suae LXXIV.

Alfred Chilton Pearson was born in 1861. With untiring effort he continued to pursue his studies in Greek literature, begun at Christ's College, while he was a lawyer, schoolteacher, and merchant. He was elected Regius Professor of Greek and Fellow of the College in his sixtieth year. He was a serious, kindly and generous man, a model of the Porsonian method. When he had successfully completed his long-awaited work on Sophocles, he died after a long illness in 1935 at the age of seventy-three.
Alfred Chilton Pearson

Brass located on the south wall of the Ante-Chapel.
Inscription text by Donald Struan Robertson.

Click on the thumbnail for a larger image.