Hugh Frank Newall, FRS
---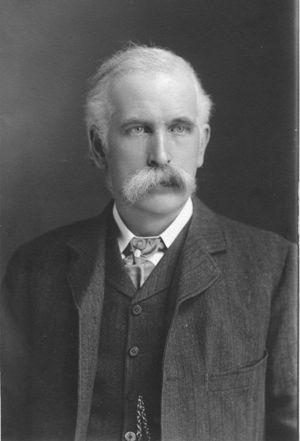 1857-1944. Professor of Astrophysics, regarded as one of the founding fathers of astrophysics.
Newall was born near Gateshead, the son of an engineer and grandson of a metallurgical chemist and astronomer. When he was in his early teens his father made a 25-inch refractor telescope: this instrument shaped Frank Newall's life and work.

Newall was educated at Rugby School, then entered Trinity College as a pensioner, graduating in Mathematics and Natural Sciences. He took a teaching job at Wellington College, before becoming senior demonstrator at the Cavendish Laboratory, with special interest in laboratory spectroscopy, at the invitation of J.J. Thomson.

In 1889, shortly before his death, Newall's father offered his refractor to Cambridge. This gift represented the start of astrophysical research at Cambridge, but no money was available to operate the telescope. To implement his father's wish, Newall offered to work the 'Newall telescope' from 1890 without stipend; he also contributed to its removal to a separate building on the observatory site. With his wife Margaret, a pianist, Newall built their house, Madingley Rise, next to the observatory; it became famed for gracious hospitality and as a cultural centre drawing astronomers, scientists, and music lovers of many nationalities, and was to be a base for other scientists including Lenox-Conyngham.

Having designed various spectrographs, Newall began to study stellar spectra, and pioneered in this country work on radial velocities. He proved 'that high-precision stellar spectroscopy was possible … in Britain'. He also specialized in studying the solar corona. Through his researches Newall introduced new fields of enquiry to the observatory and thereby established astrophysics at Cambridge. In 1892 he refused to direct the Cambridge observatory, thus maintaining his freedom to research, but became assistant director in 1904 and attracted several excellent students as well as financial grants, and the gift by the Royal Society of William Huggins's twin telescopes and spectroscopes and E.H. Grove-Hills's solar apparatus. The Cambridge Solar Physics Observatorywas established in 1913 with Newall as its director. On his retirement in 1928 Newall endowed his chair, thereby consolidating astrophysics as an academic subject, and establishing Cambridge as Britain's leading centre of astrophysics.
Memorial inscription
Translation

HVGH FRANK NEWALL A.M. R.S.S.

HVIVS COLLEGII SOCIVS IN ACADEMIA SCIENTIAE ASTROPHYSICAE PROFESSOR IRIDIS COLORVM INPRIMIS INTERPRES QVAECVMQVE AMABILIA HONESTA PVLCHRA SVNT VT IPSIVS INGENIO CONSENTANEA SEQVEBATVR IN OMNIBVS ADFINITATIS ET AMICITIAE OFFICIIS EXIMIVS PER ANNOS LXXXVI PROSPERA ET ADVERSA AEQVO ANIMO FEREBAT.
NATVS A.S.MDCCCLVII. OBIIT A.S.MDCCCCXLIV



Hugh Frank Newall, M.A., F.R.S., was a Fellow of the College and Professor of Astrophysics in the University. He was outstanding as a researcher into the colours of the spectrum. He pursued whatsoever things are attractive, honourable and beautiful, his own nature having similar qualities. He carried out to the full his obligations towards his family and friends. He bore the vicissitudes of his eighty-six years with a tranquil spirit. He was born in 1857 and died in 1944.
Hugh Frank Newall

Brass located on the south wall of the Ante-Chapel.
Inscription text by Francis Henry Sandbach.

Click on the thumbnail for a larger image.