Richard Sheepshanks, FRS
---

1794-1855. Astronomer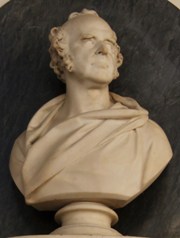 Educated at Richmond School, Yorkshire, Sheepshanks entered Trinity College, Cambridge, in 1812, graduated in mathematics as tenth wrangler in 1816, and took his MA in 1819. At Cambridge he formed, with William Whewell, Adam Sedgwick, Connop Thirlwall, and others, the brilliant group later known as the 'Northern Lights'.

Sheepshanks was elected fellow of Trinity in 1817, and, as he never married, he retained the fellowship for life. He was called to the bar in 1825, and took orders in the church of England on 18 June 1826, but the comparative affluence in which his father's death left him permitted him to follow instead his scientific vocation. He joined the Astronomical Society in 1825 and, as its secretary from 1829 onwards, edited for many years and greatly improved its Monthly Notices. In 1830 the Royal Society elected him a fellow, and two years later he became a member of its council. He took part in 1828 in George Airy's pendulum operations in Dolcoath mine, Cornwall, though these were abandoned following subterranean flooding, and about the same time he actively promoted the establishment of the Cambridge observatory. Appointed in 1831 a commissioner for revising borough boundaries under the Reform Act, he visited and determined most of those between the Thames and Humber. He also occasionally acted as an adviser to the government on routine astronomical matters.

Sheepshanks was a member of the royal commissions on weights and measures in 1838 and 1843, and was entrusted in 1844, after the death of Francis Baily, with the reconstruction of the standard of length. The work, for which he accepted no payment, occupied eleven laborious years. It was carried on in a cellar beneath the Royal Astronomical Society's rooms in Somerset House, and involved the registration of nearly 90,000 micrometrical readings. In order to ensure their accuracy he constructed his own standard thermometers by a process he communicated to the society in June 1851. His succinct account of the whole series of operations was embodied in the report of the commissioners presented to parliament in 1854. Their result was of first-class excellence, and the new standard, with certain authorized copies, was legalized by a bill that received the royal assent on 30 July 1855.

Sheepshanks presented in 1838 to the Royal Observatory, Greenwich, an 8-foot equatorial telescope, with an object-glass, by Cauchoix, of nearly 7 inches aperture. In the same year he determined the longitudes of Antwerp and Brussels, and in 1844 those of Valentia, Kingstown, and Liverpool. He lavished time and money on astronomical instruments, though he was often more concerned with the instruments for their own sake than for what he might achieve with them. In particular, he originated an effective and easy method of driving an equatorial by clockwork.
His heir, his sister Anne, presented £10,000 to the University of Cambridge for the promotion of research in astronomy, terrestrial magnetism, and meteorology at the observatory, as well as £50 per annum for the foundation of an exhibition in astronomy bearing her brother's name.
DNB
Tombstone inscription
Translation

IN MEMORIAM RICARDI SHEEPSHANKS A.M.

HUJUS COLLEGII SOCII VIRI JUSTITIAE LIBERTATIS VERITATIS AMORE INSIGNIS INGENIO ACUTO ANIMO VIVIDO PRAEDITI HUJUS LOCI STUDIIS INNUTRITUS
ASTRONOMIAM PRAECIPUE SIBI COLENDAM SELEGIT ET INTER SUMMOS ILLIUS SCIENTIAE DUCES VIXIT AB ILLIS HONORE HABITUS
ILLORUM LABORIBUS AC MERITAE LAUDI INSERVIRE INDEFESSUS DE SUA FAMA PARUM SOLLICITUS BRITANNICARUM MENSURARUM MODULUM ULTIMUM LABOREM EXACTISSIMIS RATIONIBUS DETERMINAVIT

NATUS JULII XXX MDCCXCIV OBIIT. AUG. IV. MDCCCLV.

FOLEY SC LONDON

In memory of Richard Sheepshanks, M.A., Fellow of the College, distinguished for his love of justice, liberty and truth, and endowed with a sharp intellect and a lively mind. He was nourished in the studies of this place and chose to devote himself especially to astronomy. He lived among the men foremost in that science and was held in great esteem by them. Tireless in his devotion to the work and deserved reputation of his colleagues, he was little concerned for his own fame. His last work was to determine the standard of British measures by the most exact calculations. He was born on 30th July 1794 and died on 4th August 1855.

Carved by Foley, London.

Richard Sheepshanks

Bust by Foley located on the south wall of the Ante-Chapel.
Memorial inscription by William Whewell.