James Spedding
---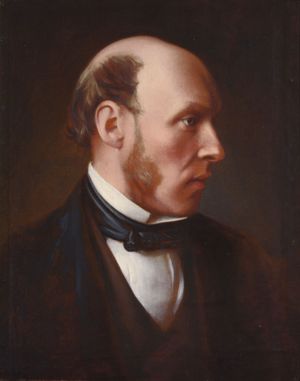 1808-1881. Literary editor and biographer; members of The Apostles.

Spedding was born in 1808 in Mirehouse, Cumberland. After attending grammar school at Bury St Edmunds, he entered Trinity in 1827, where he won a prize for a declamation delivered on commemoration day 1830. Although he was a good classical scholar, and in the second class of the classical tripos of 1831, his greater merits were recognized by his contemporaries. As one of the Apostles, he became a lifelong friend of Lord Houghton, Edward Fitzgerald, Arthur Hallam, Archbishop Trench, W.M. Thackeray, and Alfred Lord Tennyson, who said of Spedding, 'He was the Pope among us young men—the wisest man I know'.
In 1835 Spedding entered the Colonial Office where he established a reputation with 'quite a genius for business'. He left in 1841 and spent the next year in the United States as secretary to the Ashburton commission negotiating a settlement of the boundary dispute between that country and Canada. After that period, Spedding began what was to be his main employment for over thirty years, his edition of the works of Francis Bacon, refusing in 1847 the office of permanent under-secretary of state for the colonies, and serving on the civil service commission only when it was first instituted in 1855 and resigning when the office was in working order. The first result of his Bacon studies, Evenings with a reviewer, or, A free and particular examination of Mr Macaulay's article on Lord Bacon, written in 1845 but not published until 1848, demonstrates a precise method contrasting the generalized attacks and misrepresentations of Macaulay with quiet humour and a shrewd critical faculty.
On the resignation of Charles Kingsley in 1869, Spedding was offered the professorship of modern history at Cambridge; in 1874 the university offered him an honorary degree. He refused both, accepting only an honorary fellowship at his beloved Trinity College.
DNB
Tombstone inscription
Translation

JACOBVS SPEDDING A.M.

HVJVS COLLEGII SOCIVS HONORIS CAVSA ADLECTVS

OB. 1881. ÆT. 72.


James Spedding, M.A., was an Honorary Fellow of the College. He died in 1881 at the age of seventy-one.
James Spedding

Sculpture located in the Vestry.
.