William Lort Mansel
---
1753-1820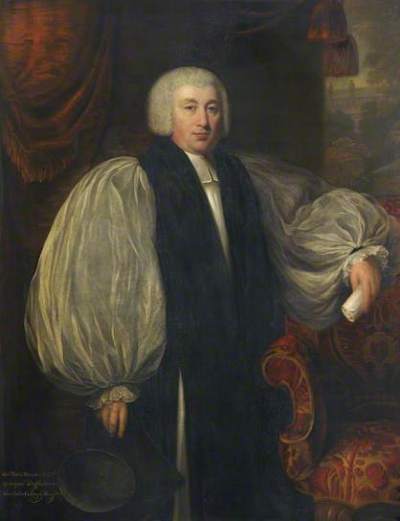 Master; Bishop of Bristol
Mansel was born at Pembroke and educated at Gloucester Grammar School before being admitted pensioner, aged seventeen, at Trinity. Elected scholar in 1771, he graduated BA in 1774 and MA in 1777. He was made Junior Fellow in 1775 and full Fellow two years later; he held many College offices, twice serving as Junior Dean. He was ordained deacon at Peterborough in 1780 and priest in 1783, after which he was appointed Vicar of Bottisham, Cambridgeshire, and five years later Vicar of Chesterton - both Trinity Livings.

In College Mansel was known as a fine wit and mimic, and delighted in satirizing academic rivalries. His popularity led to his election as public orator in 1788. He often preached before the University and took part in county politics as a strong supporter of William Pitt's government. He was linked to the administration through his position as chaplain to Pitt's master of the rolls, Sir Richard Pepper Arden. His former pupil Spencer Perceval recommended him to Pitt for the mastership of his College; Mansel was duly appointed in 1798, with instructions 'to maintain the authority of the situation, and (what is much wanted) to improve the discipline of the College' (William Pitt to George III, 12 May 1798, Later Correspondence of George III, 3.61). The elements of political and religious radicalism in Trinity - encouraged by two of the Fellows, Thomas Jones and James Lambert - certainly dispersed under 'the perfectly orthodox' Mansel (ibid., 3.61), who also served as Vice-Chancellor in his second year as Master. Mansel's loyalty to the political establishment was recognized when Perceval, then Chancellor of the Exchequer, promoted his candidacy for the bishopric of Bristol, to which he was consecrated in 1808. He was further rewarded, in 1810, with the wealthy living of Barwick in Elmet, Yorkshire, which was in Perceval's gift as Chancellor of the Duchy of Lancaster.

Mansel published only three of his sermons. He died in the Master's Lodge, and was buried in the Chapel.
DNB
Tombstone inscription
Translation

H.S.E. GULIELMUS LORT MANSEL, S.T.P.

EPISCOPUS BRISTOLIENSIS HUJUS COLLEGII MAGISTER

NATUS IV. NON. APRILIS MDCCLIII
DECESSIT V. KAL. JULII MDCCCXX

Here lies William Lort Mansel, D.D., Bishop of Bristol and Master of the College.

He was born on 2nd April 1753 and died on 27th June 1820.
William Lort Mansel

Buried in the sanctuary, main Chapel